As a proud Jeep owner, you're carrying on the long-standing tradition that the brand's capable, fun, and useful vehicles represent. You can go off-roading, camping, and even to Jeep Jamborees where you can spend time with other Jeep fans who live and breathe everything Jeep! Be aware that owning a Jeep comes with some responsibilities, and the Jeep wave is one of them. As a Jeep owner, it's important to know what it is and how to use it. Why? Because there's more to it than just waving.
Read this short guide to the Jeep wave so that the next time you see another Jeep on the road, you'll be ready to greet it in the right way.
What is a Jeep wave?
The Jeep wave is a friendly way for people who drive Jeeps to say hello to each other as they drive by. Even though there is a hierarchy about which driver waves first (more on that below), the Jeep wave is really just a way for one Jeeper to show respect to another.
It used to be something only drivers of Jeep CJs, YJs, TJs, and JKs did. However, now everyone can do it as long as they know how to do it right and show respect to other Jeep drivers.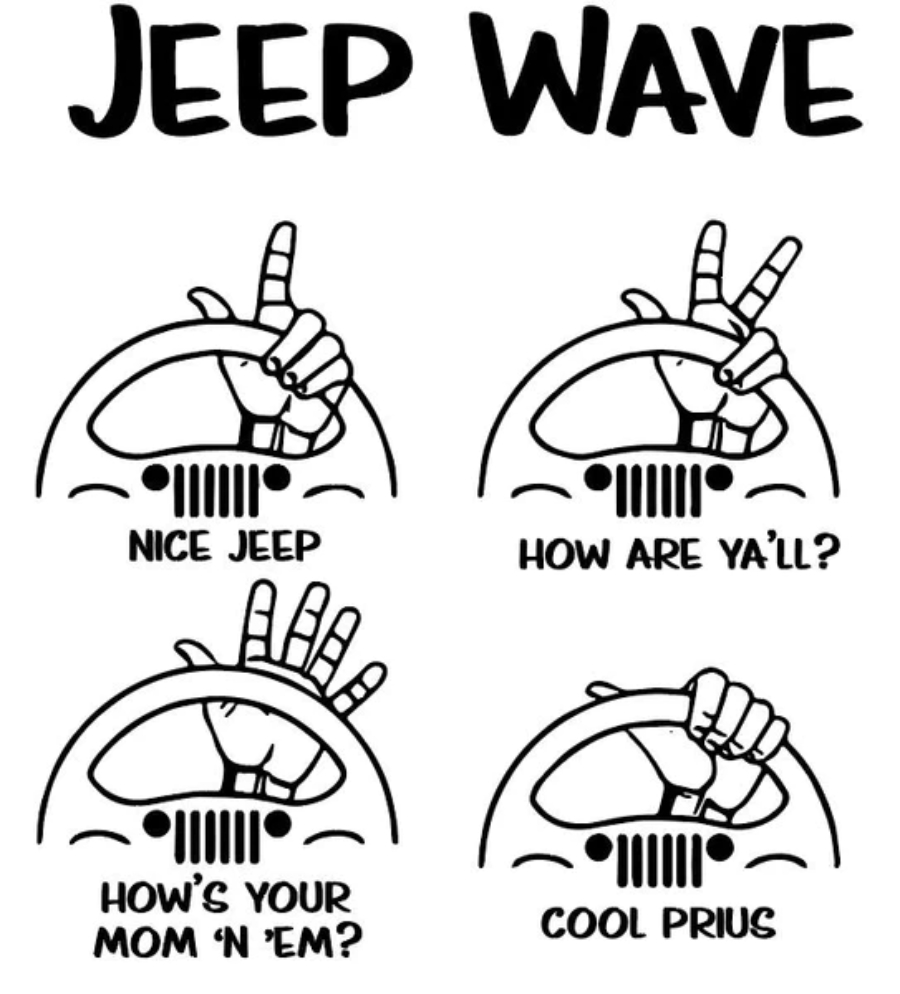 What is the hierarchy of the Jeep wave?
Not surprisingly, the Jeep wave is about more than just the wave! There's a whole calculation that needs to be done to figure out who starts the wave as a sign of respect for the other driver. This calculation is based on the drivers' positions in the hierarchy.
The Jeep wave hierarchy includes three things:
The Vehicle:

In this class, CJs are usually at the top, followed by TJs, YJs, and Cherokees, with JKs somewhere in the middle.

Appearance and Condition

: The dirtier and more open your Jeep is when the top is down, the higher your rank. Jeeps that are cleaner and newer have lower ranks.

Equipment and Changes

: Jeeps that are set up for real off-roading or improved with off-road changes like bigger wheels and tires, lifts, aftermarket bumpers, body armor, and other changes are better than stock Jeeps that don't have any changes.
What is the Jeep wave history?
There are a few ideas about how the way works:
Theory #1
During World War II, Jeeps were often seen on the front lines carrying supplies, important mail, and wounded soldiers to safety. The wave began as a Jeep hand sign to tell friends from foes or as a simple way for soldiers to say hello to each other.
Theory #2
After World War II, the tradition started. Many of the soldiers bought their own Jeeps when they got back home. The Jeep drivers started waving at each other because they knew that the other driver was probably a soldier.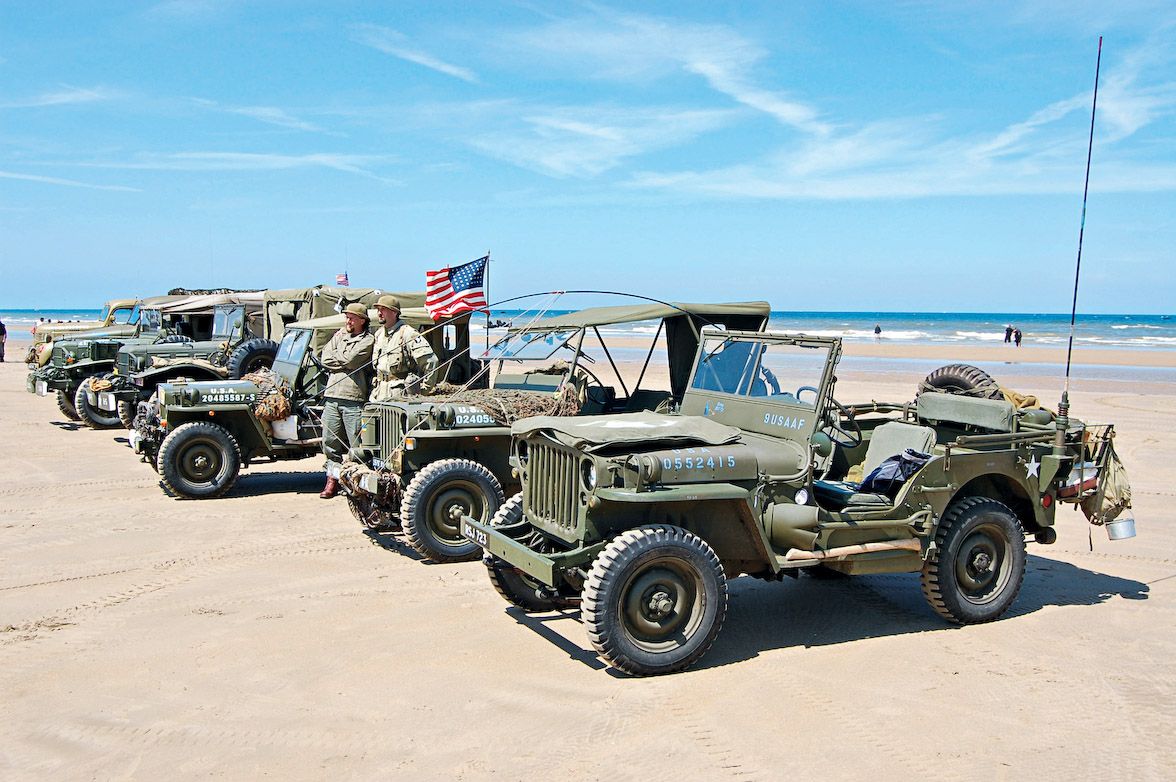 Theory #3
When people started to buy Jeeps, the Jeep hand wave started. People drove the vehicle more for fun once they were away from the battlefield. This made it more common. Jeep etiquette was made so that Jeepers could see that they all had the same interest and hobbies.
Are you curious about where Jeep got its start? Read more here >>
Why should we do it?
We wave because we love our Jeeps and enjoy the way they help us live an adventurous life. We like it when other drivers have the same great taste in off-road vehicles as we do. Furthermore, we want to show our Jeep community friends that we care about them, especially if they have a really cool Jeep. One of the many benefits of owning a Jeep is that you can give and receive respect. That's in addition to getting to drive the best car.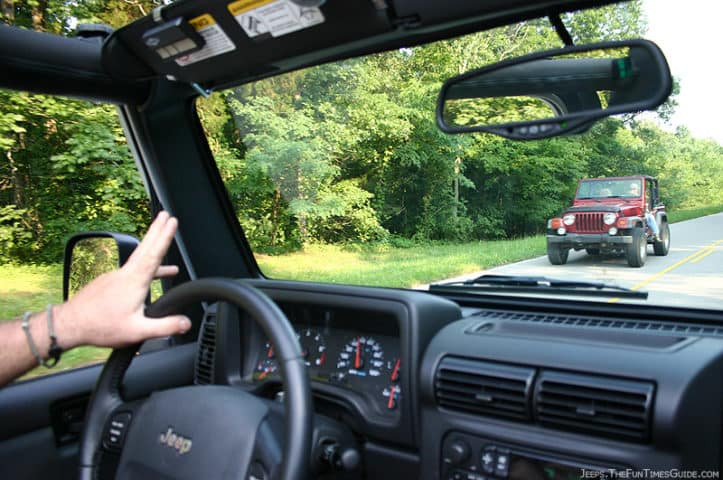 How do we wave
It depends on how you drive and how you ride waves. To give a Jeep wave, you can just stick two or four fingers out from the steering wheel and nod. But you could also wave with your whole hand. For example, if the top is down and the doors are open, you can raise your hand above the windshield or outside the car. No matter how you greet them, your fellow Jeep owners will appreciate it and do the same.
Are there rules for the Jeep wave?
This is a good question because there are some Jeep owners who follow the rules and others who don't. The most important rule of the Jeep wave is that you always have to wave back. Whether you're driving a Grand Cherokee or a Wrangler, it doesn't matter.
Even though there are rumors that some Jeeps are "more worthy" of the wave than others, there shouldn't be any bias when it comes to the wave. But people think differently. Some people say that the only Jeep that should get a wave is a Wrangler that has been lifted. Some people also think that you should only wave at muddy Jeeps. If you have a clean car, you're probably a "mall crawler" and don't deserve a wave.
Does only the Jeep Wrangler have the Jeep wave? Not even close! If you're driving a different kind of Jeep and see one coming toward you, you can wave and get ready to hear a response or not. Jeep wave etiquette shouldn't be snobbish; it's supposed to be about showing that you're related.
Lastly, it's not a bad thing to show some Jeep wave pride while driving your Jeep. You can put a lot of Jeep wave decals and stickers on your car. They'll let everyone know from miles away that you're part of the Jeep Wave crowd, so there won't be any doubt that you believe in the wave. For example, you can put one on your wing mirror. When you wave at another Jeeper, it will look like you have two hands.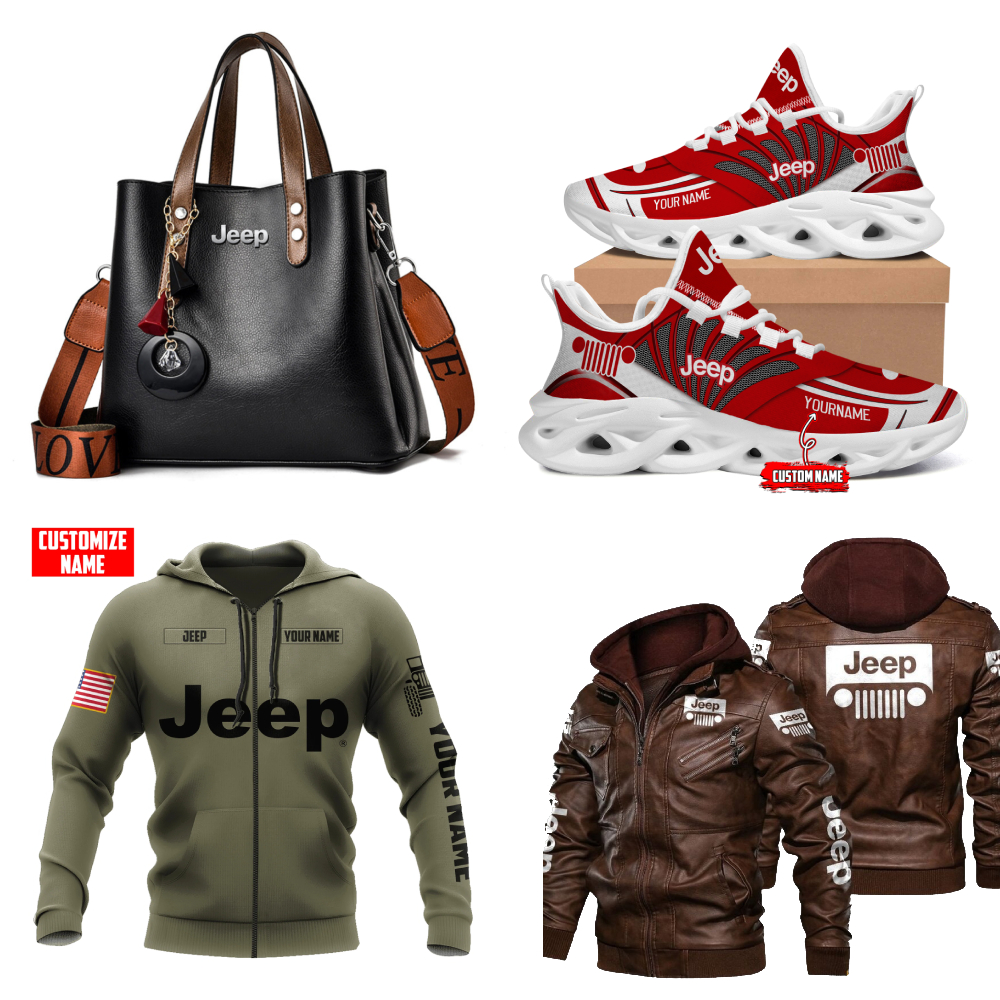 Tips: You can show your passion for your Jeep vehicle with our Jeep apparel collection here >>
Other famous gestures
People who own cars like to show respect to other people in their tribe. There are other well-known car gestures as well (not counting that most famous and inappropriate one). At least since the 1950s, when motorcycles weren't as common as today, the motorcycle wave has been going on. This hog-riding salute is done by lowering your left arm and putting two fingers out toward the road. There's also the Corvette wave and the Porsche wave. They are used to acknowledge another driver who was also willing to spend at least $60,000 on a new luxury car that can't even go off-roading. Also, there's the MX5 Miata Flip, in which Miata owners greet each other by flipping up the headlamps of their cars. Other car brands like Subaru, VW Beetle, Honda Civics, Mini Coopers, and Hummers say they have their own waves, but some people think they are just cheap copies of the one and only iconic Jeep wave.
Frequently Asked Questions
What was the source of the Jeep wave?
It's really difficult to find out where the Jeep hand sign came from(see above). However, the Jeep wave probably started in the 1960s or 1970s with the rise of off-road culture as a way for adventurous people who liked the same Jeep brand vehicles to show their love for them.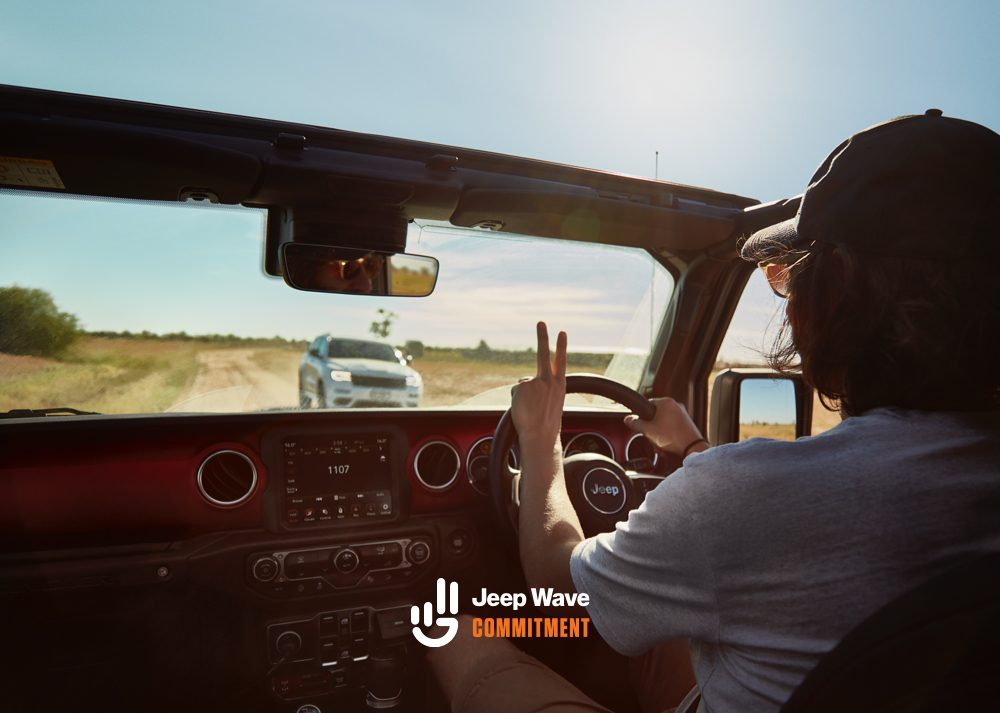 Only people who drive Jeeps wave?
Owning an off-roading vehicle does make you feel like you're part of a community. You're likely to go out into nature to take on tough terrain and have fun on fun trails. Because of this, you might expect that anyone who owns a 4×4 off-roading car, whether it's a Jeep or not, will feel like they have a bond with other drivers.
In reality, just as some Jeep drivers don't do the wave, some people who don't drive Jeeps will do it. It's all about knowing that you're part of the same group of people who like a certain way of life and treat each other with respect when you meet them on the road. Don't be surprised if a Toyota driver waves to you on the road. Just wave back and enjoy the fact that you have a friend out there.
Is the Jeep wave just for Wranglers?
Some people think that only the Jeep Wrangler wave exists. But it's not true. The Jeep wave is for every member of the Jeep community, no matter what make or model they drive. Your Jeep Wrangler might get the most enthusiastic waves, especially if it's been modified.
Another fun thing Jeep owners could usually do is Duck duck Jeep. See what it's here >>
Is there a Jeep wave secret?
Yes, but it's not as much of a secret as it used to be. The Jeep wave is just a way to show respect to another Jeep owner who also has good taste in SUVs.
What is the Jeep Wave Program?
Putting aside the informal rules of the Jeep wave, Jeep has taken the idea of the wave and used the icon of the Jeep wave to create a benefits program for owners. When you buy or lease a Jeep, you become a member of the Jeep Wave program, which is an exclusive club.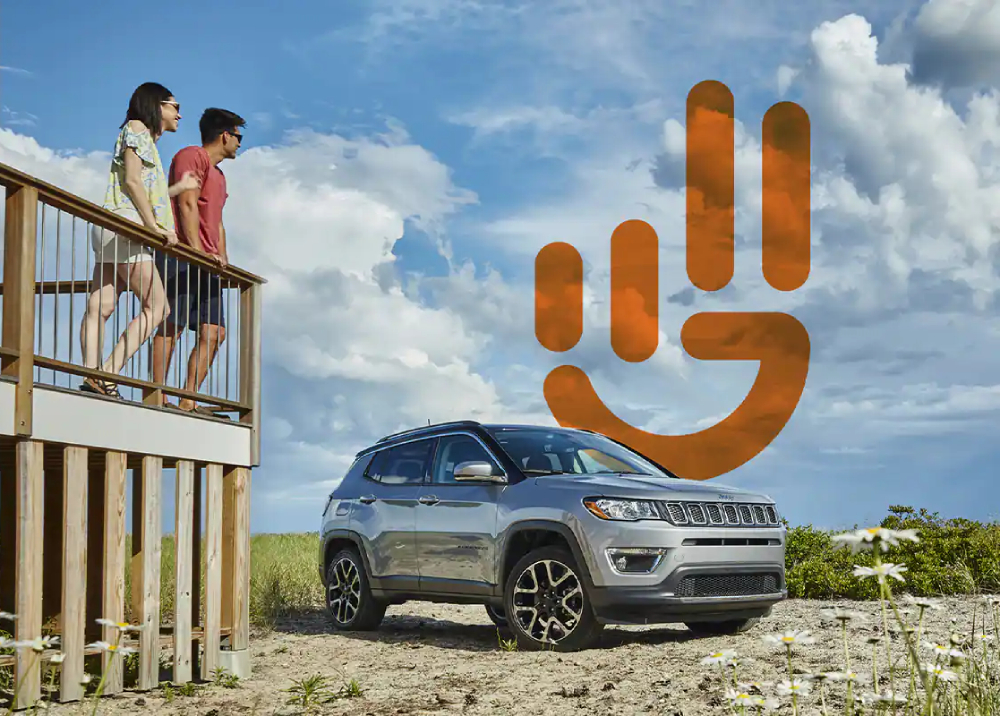 If you buy or lease any of the following Jeep models, you'll be enrolled in the program for free for 24 months:
Wrangler – all modelsGrand Cherokee – standard on Overland, Trailhawk, High Altitude, Summit, SRT and Trackhawk
Cherokee – standard on Overland and Trailhawk
Compass – standard on Trailhawk
Renegade – standard on Trailhawk and DesertHawk
Gladiator – all models
With the Jeep Wave program, you can get help scheduling services and more any time of day or night. For as long as you are a member, you also get four oil changes and tire rotations.
There are also many Jeep brand events all over the US, and if you go to any of them, you'll get special treatment.
If you're getting your car serviced, you can also rent a car for the day for free on the same day. Lastly, you'll get trip interruption coverage. This means that if your car breaks down while you're on a trip, Jeep Wave will pay up to $1,000 per incident for a place to stay, food, and emergency transportation for you and your family.
How much does it cost for a Jeep Wave?
If you have a model before 2015, you can still use the Jeep Wave program by paying an annual fee. You can also keep using the Jeep Wave program after the first 24 months are up. A membership lasts for a year and costs $150.
The Club of people who own Jeeps
If you own a Jeep, you're part of an informal community. Even if you don't want to go to the events, you can go to the official Jeep Wave program. There are a lot of community options besides the ones that are more interesting.
One of the most popular ways for people who own Jeeps to get together is through Jeep Clubs. People who love the Jeep brand can join even if they don't own one. They set up meetups, camping trips, car shows, and even group drives on off-road trails where people can learn new skills and have fun.
Are you ready for the Jeep wave?
Now that you know how to figure out the Jeep wave hierarchy and know whether you should start the wave or join it, it's time to use what you've learned. Get out there and wave to all the other Jeep drivers you pass. This is an important Jeep courtesy and a way to let them know they made a good choice.
But what if you get confused or can't figure out who should do what? Just wave anyway, that's the next best thing. At the end of the day, a wave is a wave, and a Jeep driver will appreciate it no matter how you do it. As long as you're driving a Jeep and waving to someone else driving a Jeep, everything is fine.
Actually, there is one thing that also brings more fun for Jeep owners called Jeep Easter eggs. Click here to know more about it!