Every year, there are many Jeep events all over the country. They give you the chance to learn more about the vehicle you love and meet other Jeep owners. You can have fun talking about your Jeep as much as you want to other people who share the same interests. In this post, we have summed up the 12 most popular Jeep events that will take place in 2023. Let's find out what will be coming up next year for Jeep fans.
Save this page and come back often. We'll update this article as we learn about new things happening in 2023.
What is Jeep Week?
Jeep Week is a week-long party for people who like Jeeps. Jeep-themed events like off-road trail rides, Jeep parades, Jeep scavenger hunts, Jeep obstacle courses, and Jeep beauty contests will bring people together. After-market companies and Jeep brand vendors will set up vendor areas to sell cool and unique products. It's a great way to get to know other Jeepers and catch up with old friends. There are many interesting things for everyone to do at these events.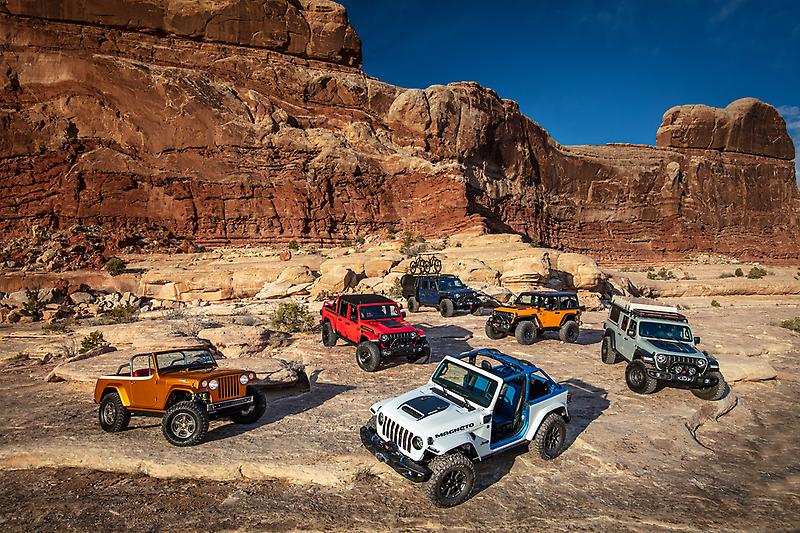 Are there any Jeep Weeks in the US?
There are a lot of them. The Jeep Beach event in Daytona Beach, and the Florida Easter Jeep Safari in Moab, Utah, which lasts for nine days, are the most popular Jeep Weeks. Many other places in the US also have shorter Jeep-related events. Some of the most better-known are the Ocean City Jeep Week in Maryland, and the Florida Jeep Jam in Panama City, offering the favorite beach crawl.
1. Easter Jeep Safari (Saturday, April 1 – Sunday, April 9, 2023)
During the 9 days of the Easter Jeep Safari, people leave Moab, Utah, on mostly day-long trail rides. The Easter Jeep Safari in Moab, Utah, is put on by the Red Rock 4-Wheelers (RR4W). It takes place near Arches National Park and Canyonlands National Park, showing off some of Utah's most beautiful scenery. This nine-day event has been going on since 1967. It starts on Saturday, one week before Easter (as the name suggests). The Easter Jeep Safari has 40 beautiful trails that range in difficulty from 2 to 9. It's also where Jeep shows off its newest concept vehicles, giving attendees a sneak peek at the brand's future. It also has a large display of products from vendors in the after-market. Big Saturday is the main event. It is a huge parade of 4×4 vehicles that all leave Moab at the same time. With a small entrance fee of $50 per vehicle per day, you won't regret going on this Jeep adventure. 
Register here: https://www.rr4w.com/index.cfm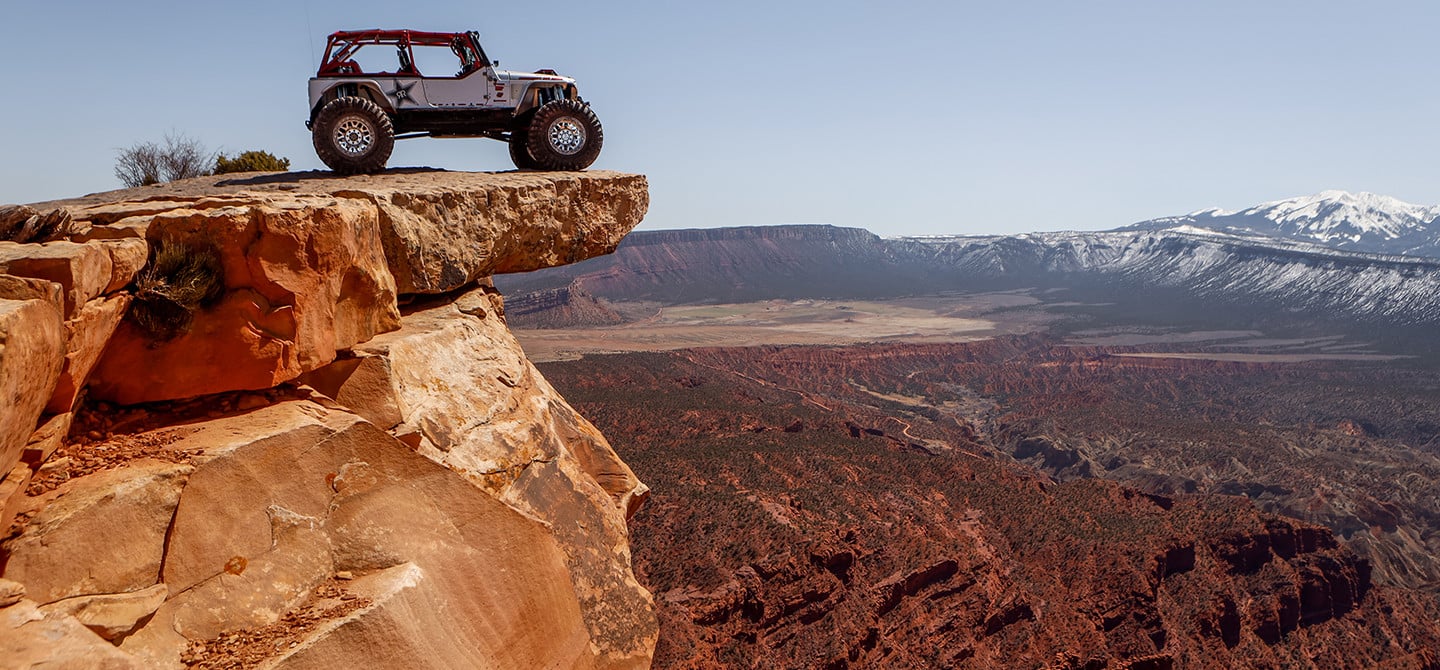 2. Jeep Beach Events (April 23-30, 2023)
Ready to have a "Great Time with Your Closest Jeep Friends" at Jeep Beach? Jeep Beach enthusiasts celebrate a passion for off-road vehicles over five days of family-friendly activities, attracting Jeepers and Jeep industry vendors in Daytona Beach, Florida.
This week-long Jeep event has become one of the best Jeep events in the U.S. Make plans now to attend and enjoy the many festivities, great friends, and wonderful Daytona Beach weather! From Sunday, April 23rd, to Sunday, April 30th, this Jeep-only event brings together 200,000 Jeep fans from over 26 countries for a week of family-friendly partying. The event organizers expect a big turnout again in 2023 since this time of year is the best time for Jeep owners to live out their dream vacation. Unlike events in September or December, for example, you'll be on the beach in the middle of Spring. All trim levels are welcome, whether you have an old car or a new one. This big Jeep event starts with a Jeep Beach 5K Fun Run and ends with an epic Jeep Beach Parade. In between, there's a Jeep luau, a Tiki party, a "Show N Shine" Jeep beauty contest, off-road mudding, beach games for families, and live entertainment. You can also just chill out on Daytona Beach on a Friday or Saturday night. The event also has over 200 vendors at the Daytona International Speedway selling all the newest Jeep products and gear. The entrance fee is $80 per vehicle, which gets you into all of the official events at Jeep Beach. And you won't regret your revelry: Since 2012, Jeep Beach has raised and given more than $2 million to local and national charities. So do a good thing and have a party at Daytona in 2023 with your Jeep.
Register here: https://www.jeepbeach.com/
3. Florida Jeep Jam (May 15-20, 2023)
Is this your first time at a Jeep Jam? It's another beach event in Florida that you shouldn't miss. (It's sometimes called the Jeep Beach Jam.) This party for Jeep owners only is on the famous Panama City Beach and promises to be a lot of fun. Get ready for an exciting beach vacation with thousands of Jeep owners and hundreds of Jeep clubs in Panama City Beach. From May 15–20, 2023, you can be a part of the Jeep invasion of Panama City Beach, where more than 2,000 Jeeps will be parked.
Besides, you can put your Jeep to the test on the Obstacle Course, explore the natural areas of North Florida during a Dunes Day Off-Road Excursion, check out the newest Jeep accessories, parts, and gear from top vendors, cruise the sandy beaches during our Topless for Turtles Jeep Beach Krawl, and enjoy some of the many other Jeep events happening during this 8th annual Jeep Week. Even though this event isn't as big as Jeep Beach, it will still be fun in the sand and surfing on a beautiful beach. This is a chance for you to find out why Florida Jeep Jam is the best place for Jeep beach trips in the southeast.
Register here: https://www.floridajeepjam.com/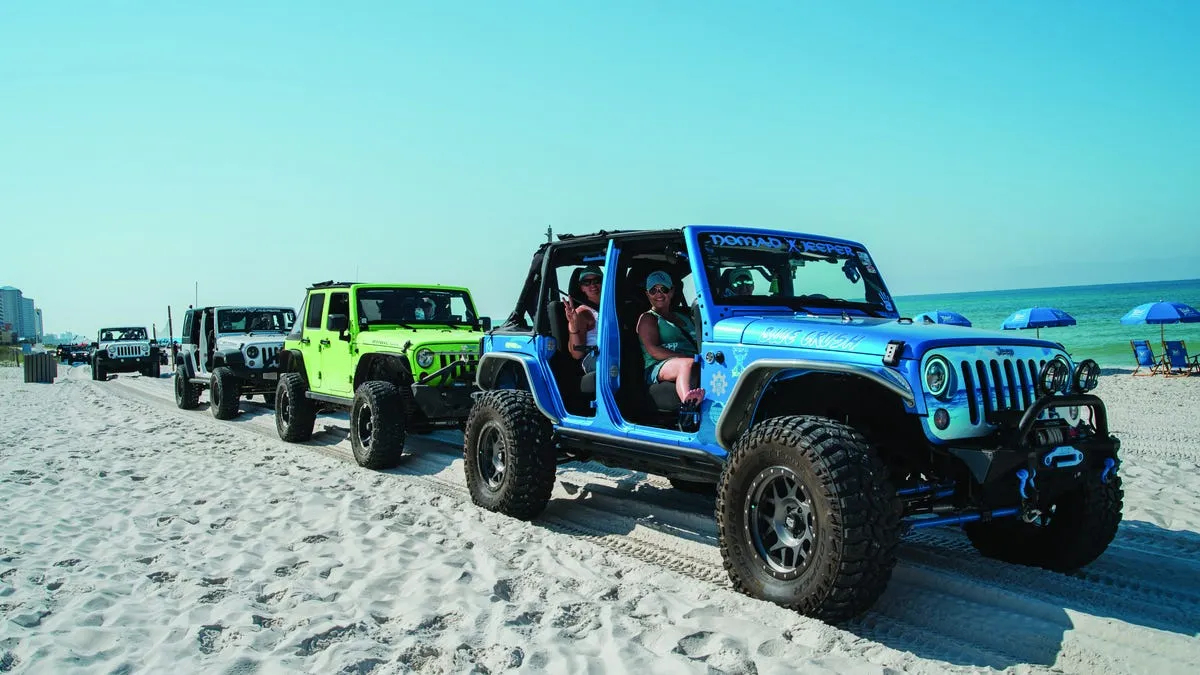 4. Jeep Jamboree USA: Just announced trips for 2023!
Jeep Jamboree USA gives Jeep owners off-road adventure weekends at some of the most exciting places to go off-roading in the United States. In 2022, they planned more than 30 trips in 24 states for Jeep fans to go on outdoor adventures in places like the Badlands, Ozarks, Oregon dunes, Death Valley, the Catskills, and the Texas Hill Country. The 22-mile Rubicon trail is one of the most famous trips. It is an old Native American footpath that gold rushers used to get through the Sierra Nevada Mountains. In 1953, Mark A. Smith held the first off-road Jamboree on this trail. This trail is a big inspiration for the Jeep Rubicon. Each Jamboree is run by experienced guides and has activities for people with different levels of off-roading skills. Anyone with a Jeep that has a 4-LO transfer case can join. Bring your Jeep and get ready to meet some new friends. Check out this handy map of events to find out what's going on near you in 2023.
Register here: https://jeepjamboreeusa.com/tripsregister/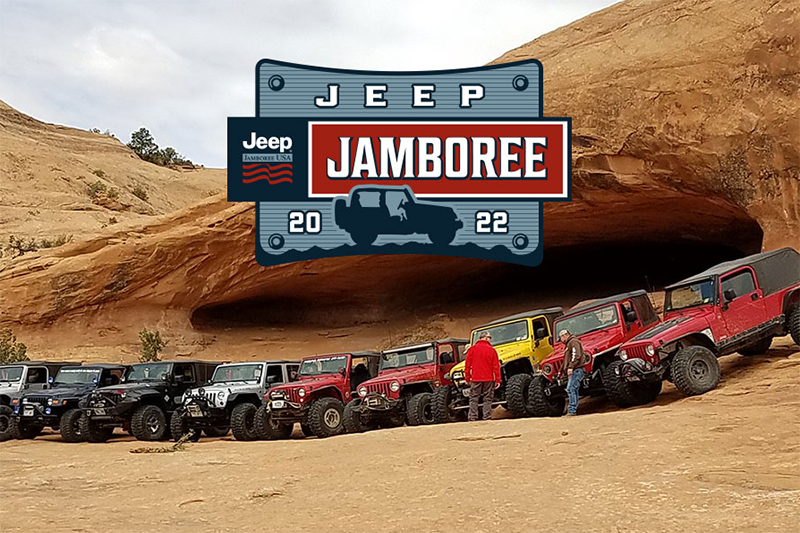 5. Bantam Jeep Heritage Festival Butler Pennsylvania (June 9-11, 2023)
Put the Bantam Jeep Heritage Festival in Butler County, PA, on your calendar for 2023. This is the place where the Jeep was first made. In 2022, we had almost 3,000 Jeeps come from 32 states and Canada. This made Bantam one of the largest events in the country that was only for Jeeps. We hope you and all your Jeep friends will join us for an amazing Jeep weekend with trails, obstacles, vendors, Jeep history, and more.
Register here: http://www.bantamjeepfestival.com/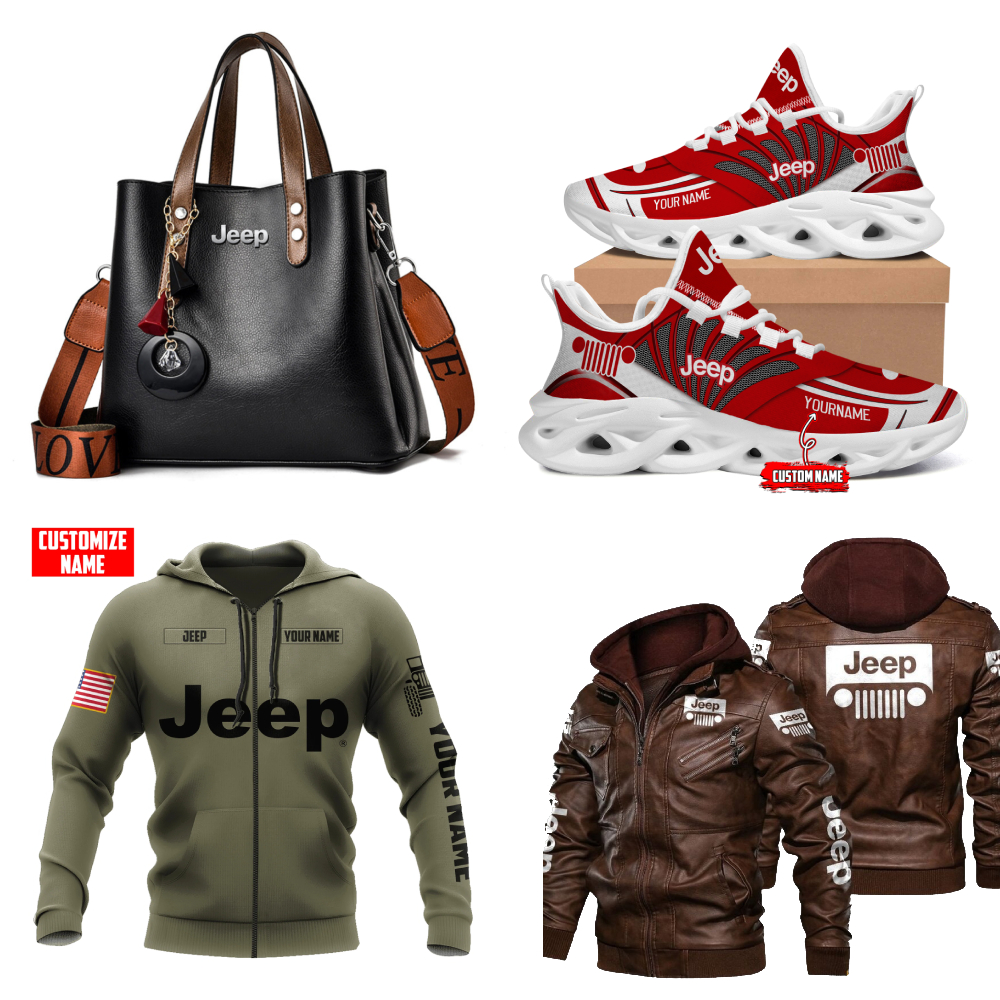 Don't know what to wear to Jeep Week? Check out our Jeep collection on sale now >>
6. New Jersey Jeep Invasion (July 14-16, 2023)
Every year, this weekend event is put on by the New Jersey Jeep Association. This year, the New Jersey Jeep Invasion will take place on Father's Day weekend in Wildwood, New Jersey. At the end of the event, there will be a beach-themed Jeep parade. The obstacle course will be going through the sand and the water.
The New Jersey Jeep Invasion starts with a free concert and has many vendors and other things to do. Jeep owners are also encouraged to dress up their vehicles for the event, and the best "costume" gets a prize.
Register at Eventbrite

7. 4-Wheel Jamboree Nationals (Jul 7-9, 2023)
The 4-Wheel Jamboree Nationals will be held in Bloomsburg, Pennsylvania, from July 7 to 9 and in Indianapolis, Indiana, from September 15 to 17, 2023.
The 4-Wheel Jamboree Nationals are events for people who like 4×4 trucks and SUVs. People have called them "State Fairs for 4-Wheelers" because people come to drive, race, or just show off their vehicles. Mega truck and mud bog racing, monster truck rides, thousands of vehicles on display, a Show-n-Shine contest, giveaways, a Performance Marketplace, a burnout contest, dyno testing, vendors, and more are all part of this family-friendly series.
Register here: https://www.4wheeljamboree.com/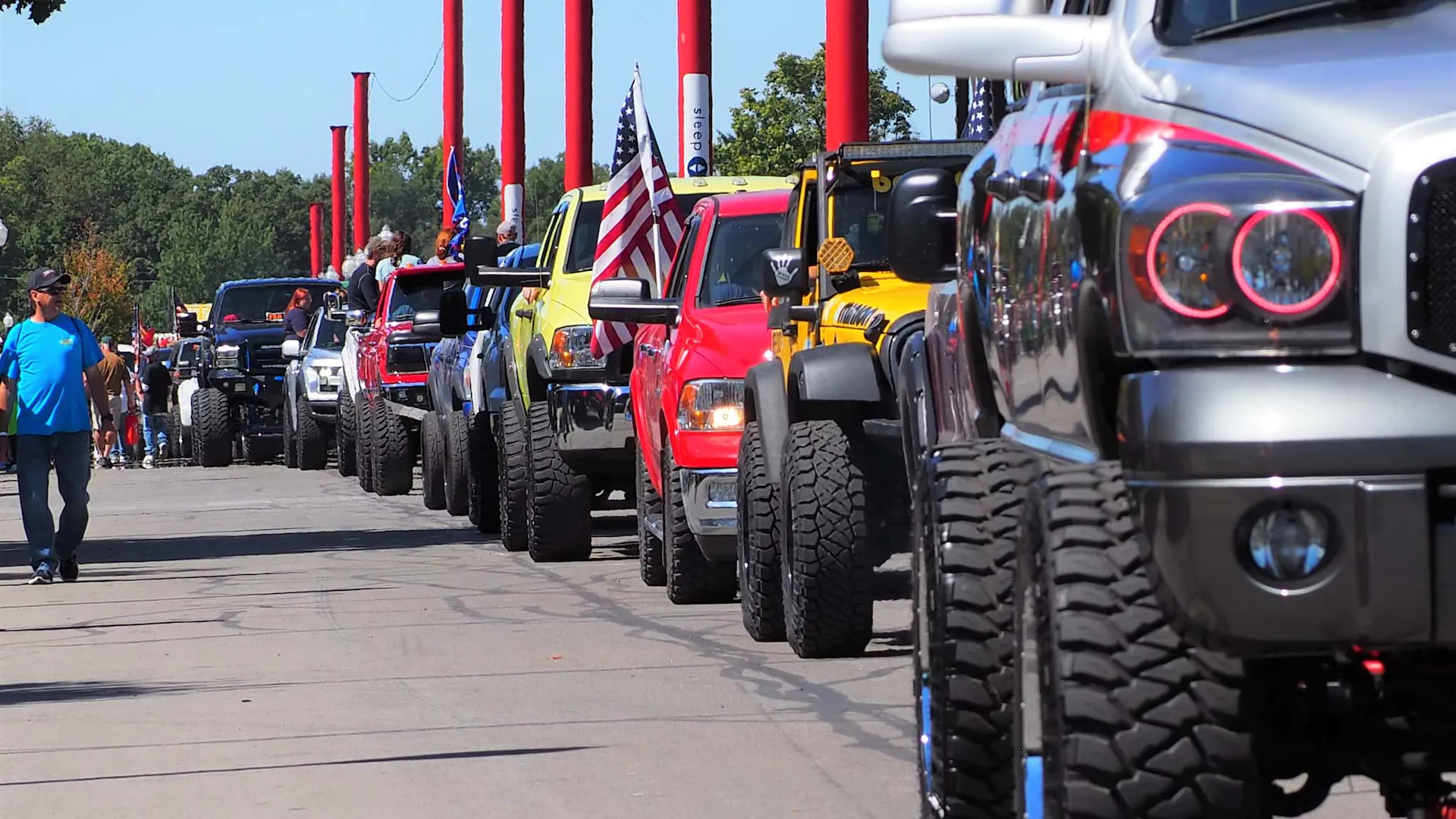 8. Ocean City Jeep Week (August 24-27, 2023)
Jeeps are the best way to get to the beach, so every summer since 2010, Ocean City, Maryland has held Jeep Week. From August 24 to August 27, 2023, there will be an off-roading extravaganza. You don't even need a Jeep of your own (though it helps!) to enjoy all the fun that weekend has to offer.
You'll want to clear your schedule and get a lot of rest this weekend because there are lots of activities, shows, and family-friendly fun. Besides, you'll meet a lot of 4×4 fans—between participants and spectators, there are around 13,500 people at the weekend, and it keeps growing every year. Participants will have plenty of time to talk Jeep at all the parties and events that happen all weekend long.
Register here: https://www.oceancityjeepweek.com/
9. Great Smoky Mountain Jeep Club Invasion (August 24-26, 2023)
The Smoky Mountain Jeep Invasion is an Expo for all the top Jeep parts and accessories sellers, as well as a Jeep Show where several trophies are awarded. It is open to ALL Jeep fans and Jeep Clubs from all over the country. The 11th-year event will be held again at the LeConte Center 2986 Teaster Lane, Pigeon Forge, TN 37863, from 9 am to 5 pm every day.
Jeep enthusiasts come to meet and buy things from many of their favorite merchandisers for all kinds of Jeeps, including Wrangler, JT, JL, JK, TJ, YJ, and XJ. People who go to the Great Smoky Mountain Jeep Club Invasion can also take part in one of the largest Show and Shine Competition Jeep Shows in the area.
More details here: https://gsmji.com/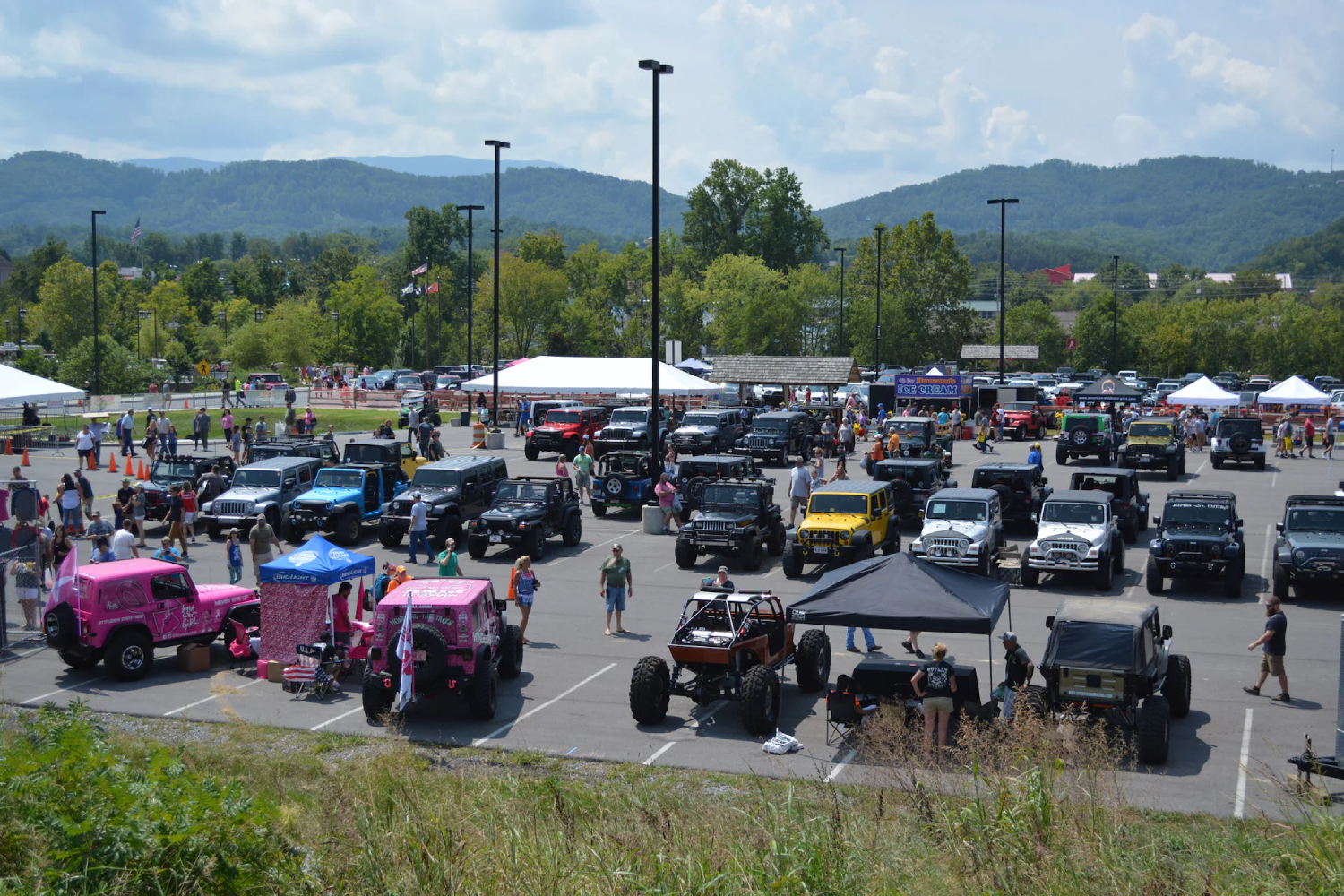 10. Myrtle Beach Jeep Jam
(Oct 27-29, 2023)
The three-day festival is all about Jeeps and gives owners and fans a chance to show off and meet each other. The event includes a beach crawl, a car show, and an obstacle course. 
The 2023 Jeep Jam is projected to take place Oct. 27-29 (will be confirmed shortly) with full of fun things to do. Beach crawls take place each morning from 7 to 9 a.m. The Myrtle Beach Jeep Jam is located at the former Myrtle Square Mall site across from the Myrtle Beach Convention Center at 2501 N Kings Hwy, Myrtle Beach, SC 29577.
More details here: https://mbjeepjam.com/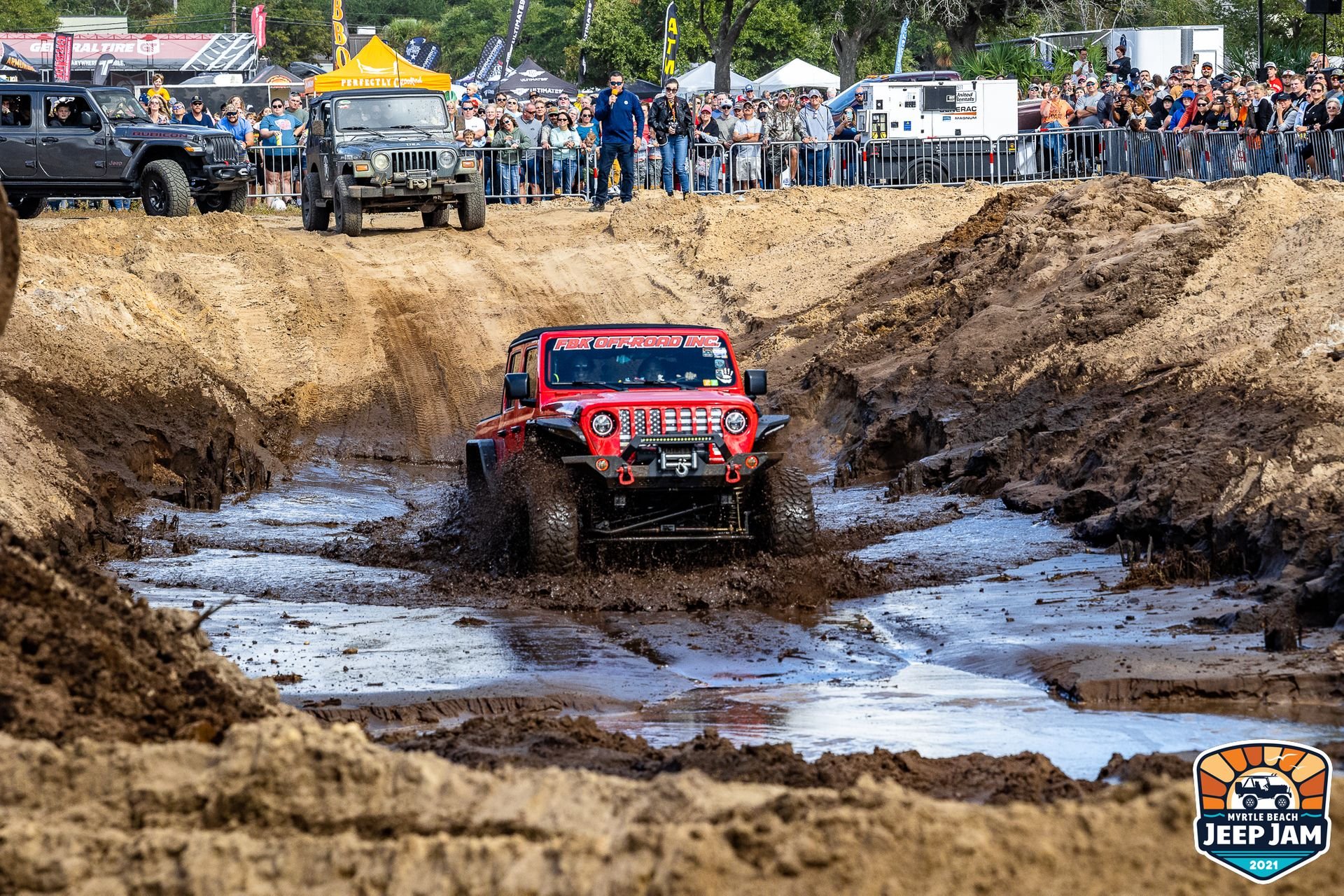 11. Jeep Rocks and Road Tour
The Jeep Rocks and Road Tour isn't just a tough course for Jeep fans to see how far their vehicles can go; it's also a place where Jeep tests its own vehicles. There are mud pits, log paths, big rocks, and a lot more on the 16-city course. This is a really hard course that helps Jeep fans and designers find out what their cars can really do.
There are other things to do on the Rocks and Road Tour, like a Jeep owner's playground where people can show off their own vehicles and look at those of other Jeep owners. There is a climbing wall for people who want to see how strong they are, and there is also an obstacle course for kids. Video kiosks also let people record their own "confessionals" about what it was like after experiencing the course.
More details here: https://www.gpj.com/case-study/jeep-rocks-road/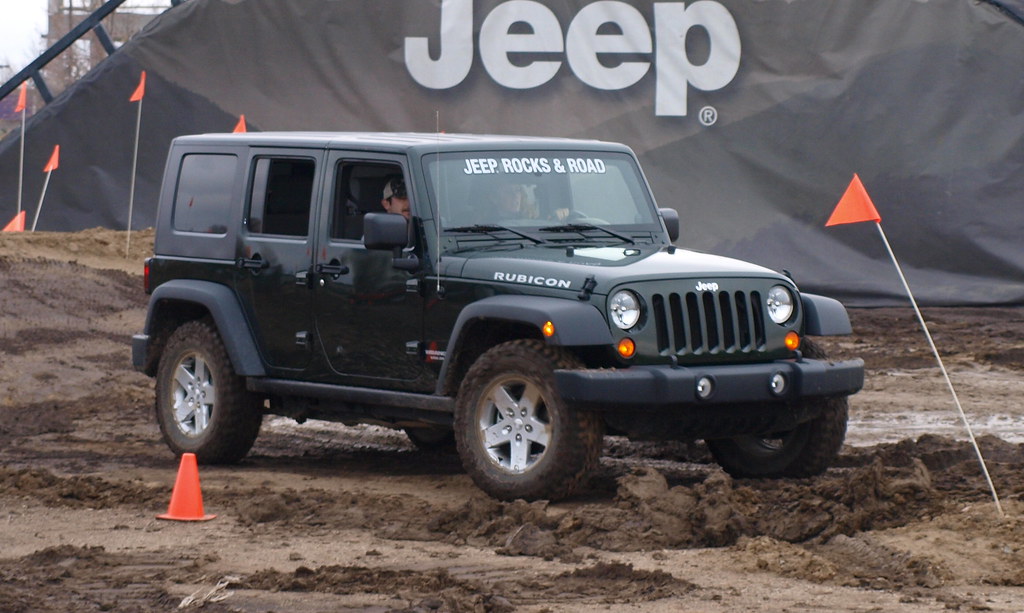 12. Willys at Whitewater Ranch
In Eugene, Oregon, Willy at Whitewater Ranch is in its fifth year. The event on the weekend gives Jeep owners a chance to meet each other, talk about their cars, and have fun with them. There will be a welcome barbecue, drives through the forest, dinner by the river, and camping under the stars.
Willys at Whitewater Ranch is smaller and less formal than the other Jeep events. Therefore, Jeep owners can meet more people and really get to know one better. They won't get lost in the crowd or feel overwhelmed by all the festivities.
More details here: http://www.mw-willysjeep.com/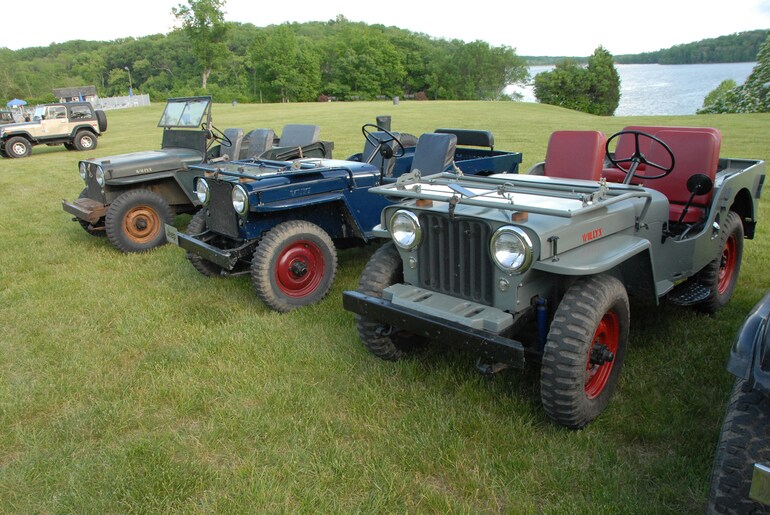 How to get ready for a Jeep Week experience
If you want to go to one of the annual Jeep events, here are some things to think about as you plan your trip.
Read event details
Once you've decided on a Jeep Week, make sure to read over the event details and schedule before you buy tickets. Every Jeep gathering is different, and many of them have small details that you'll want to keep in mind, like extra fees for parking or extra fees for certain events.
Register asap
The early bird gets the worm! Many Jeep events, especially the more popular ones, fill up quickly, so it's a good idea to check the websites often to find out when registration opens.
Be well-prepared
Many of these Jeep events have a lot of different activities, from meet-and-greet parties to off-roading courses. So, you'll need different clothes for each situation. So be sure to be ready when you get there!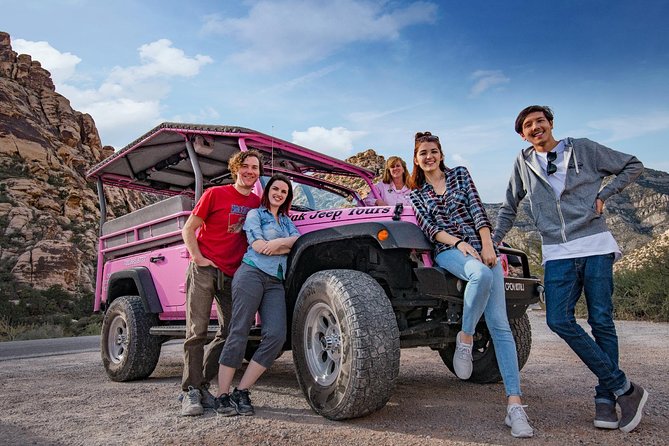 Get your Jeep ready
You'll want to make sure your Jeep is ready for the event, including any repairs, modifications, or touch-ups it might need. If you want to take part in off-roading events, don't forget to bring the right gear for those trips, too.
Going to a Jeep Week
Jeep Weeks are a fun way to party with other people who love the Jeep brand as much as you do. Plus, you'll get to show off your cool Jeep to people who will appreciate it. Fellow Jeep owners say that this year's weekend events for people who like four-wheel-drive adventures should be on the list of the best vacations for active families. Not only do you get to figure out your own ride while having a great time on a road trip, but you also get to have a great time seeing all kinds of Jeeps.
Read more: