A person who likes to try new things can do almost anything with a Jeep. It can take you to places where there are no roads or where there is snow or mud. Even when the road is bumpy, a Jeep is the most stable vehicle and has the best ground clearance. Jeep has a huge amount of space inside for the driver, passengers, and cargo as well. So you don't have to worry about your camping gear while you're on the road.
Do you love driving? Perfect! Then we have a car that will suit you. All kinds of roads are good for Jeeps. Here are some of the best Jeep quotes that will get you going and make you want to jump on a Jeep tour.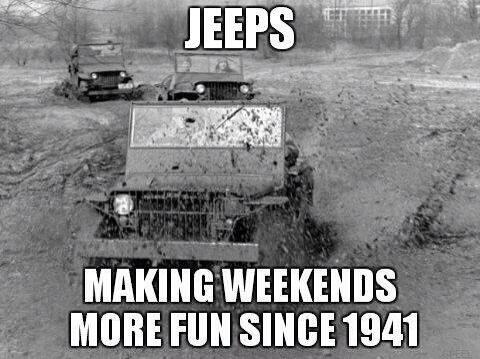 Funny Jeep quotes 
Your trip will be more exciting and fun if you're with the right people and in the right car. You only need a Jeep. Here are some funny Jeep quotes to keep the fun going on a long trip with your friends.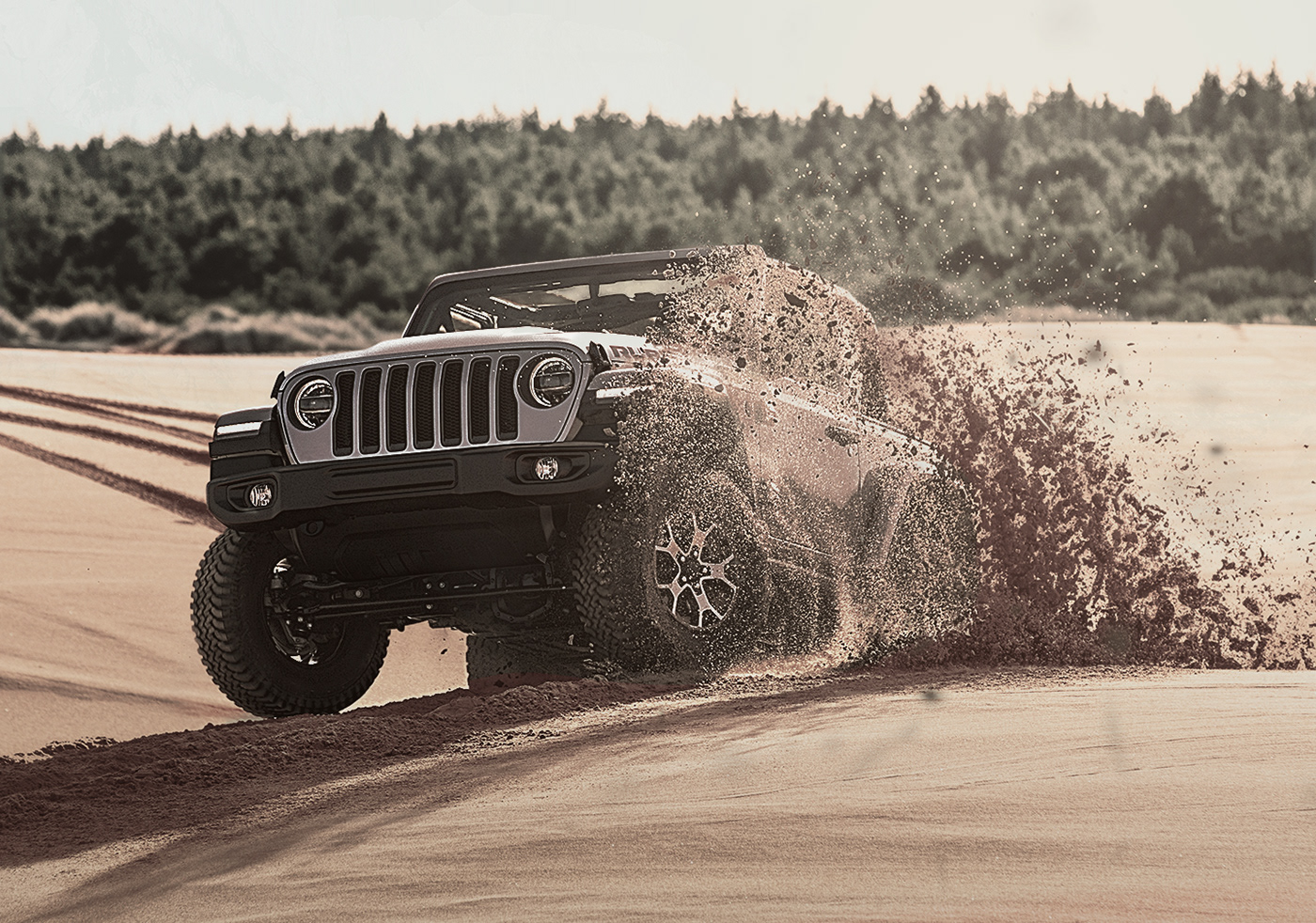 "I am the black Jeep of the family."
The original quote is supposed to be "the black sheep of the family". The black sheep of the family is a person who makes bad or very different decisions and may not fit in within their family. Jeep fans created their own version to show their culture of relentless exploration and fearless adventure that makes them different from other people.
"I was driving with my friend and saw a guy driving around in a Jeep with a dead deer strapped to the hood. My buddy says to me, 'You think he's been hunting' Nope, they're probably giving them away with the purchase of every Jeep." – Bill Engvall
One of the most well-known people on the Blue Collar Comedy Tour is Bill Engvall. He is known for telling funny stories that hit the nail on the head. With this kind of setup and punchline, he shows how a big part of Jeep culture is that Jeepers care more about enjoying the beauty of nature and the outdoors than they do about silly social norms.
Wanna look cool when driving your Jeep? You can also see our Jeep apparel here >>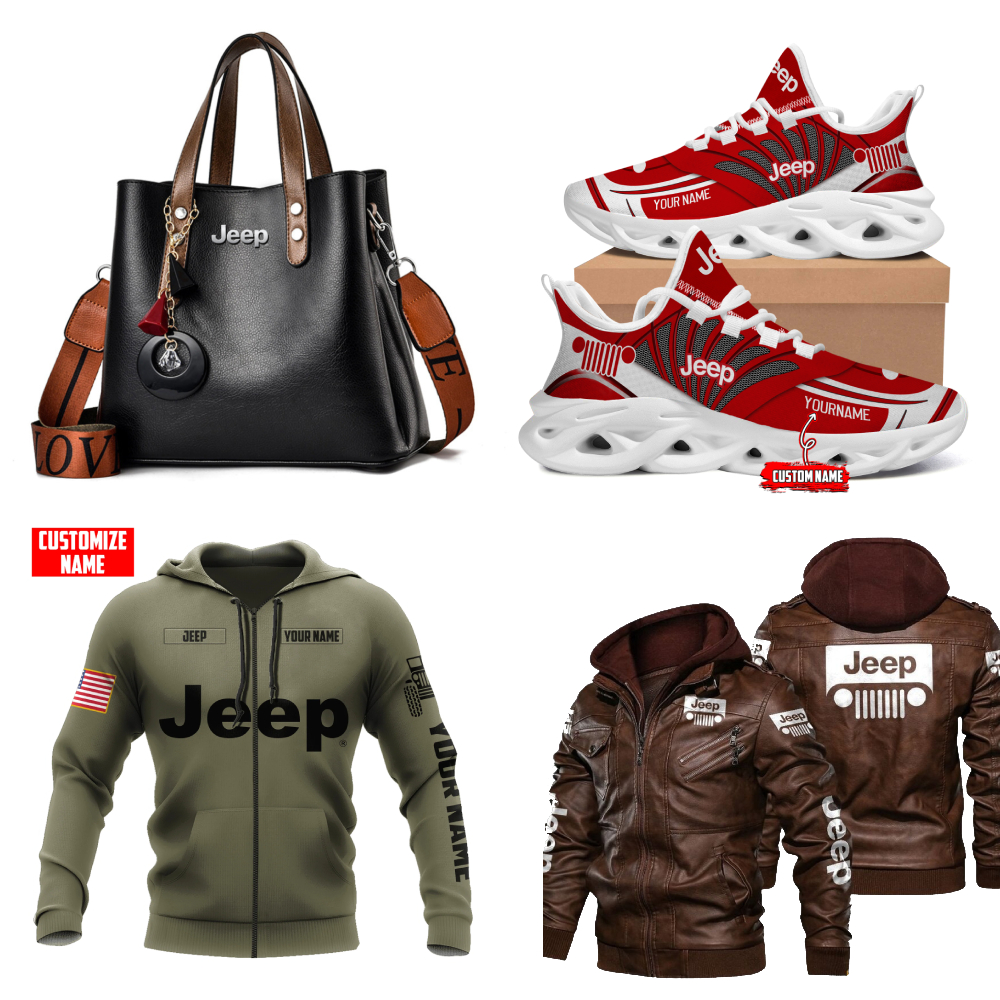 "If you tell me that Jeeps aren't for me, that's fine – I'll just run you over with it."
There is sometimes a bit of gatekeeping in the Jeep community. Sometimes it's aimed at women, LGBTQ+ people, or people who live in cities. No matter what, this quote is a funny way for Jeep fans to get back at the haters. It's the best way to show that you belong in a Jeep, especially if you do it with some good-natured aggression.
"He gave Marcie a spare to the Jeep—I should park this thing in the ocean, twenty feet under."
-Becca Fitzpatrick.
"It doesn't phase, I am amazed at my phrases. Play this in your Jeep, so your neighbors lose some sleep (I wanna thank you)"
-Del the Funkee Homosapien.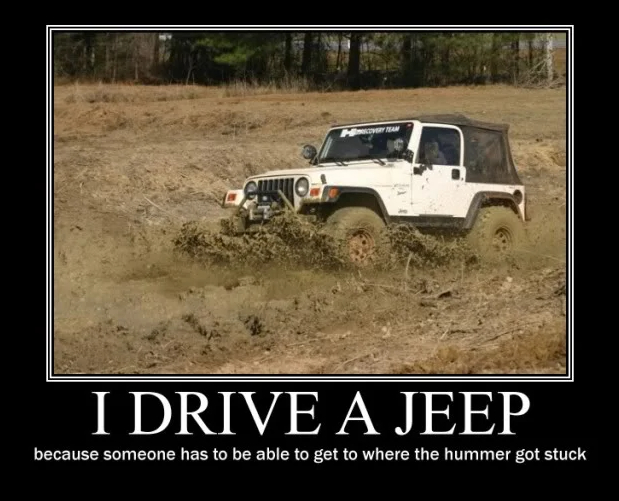 Not all those who wander are lost
During the covid-19 pandemic, another trending version of this Jeep quote was "Not all those who wander are lost. I am hiding from stupid people."
Jeep owners have a unique interest. We are nomads who like to take the road less traveled. "Go anywhere. Do anything." has been the brand's slogan for a long time. This has led to a culture of never-ending exploration and fearless adventure among Jeep fans, which you can see in the inspirational, funny, and beautiful quotes about Jeeps that are all over the internet.
If you are a true Jeep fan, you may be looking for these quotes for many different reasons. We've got you covered whether you're looking for a quote, some wall art, or the perfect Instagram caption to go with that picture of your huge Jeep wheels.
Do you know the culture of Jeep wave? Find out more here >>
Quotes about Jeeps in mud
"I am done adulting. Where is my Jeep?"
"It will go anywhere, anytime, in any weather. It squeaks, leaks, rattles, and looks best all covered in mud. An off-roading beast, recovery vehicle, and badass big kids' toy!" 
Even though we don't know where this quote came from, it's clear that it's one of the best mudding quotes. It makes us think of how free we feel when we drive our Jeep through the mud. It's exciting to drive a car that can handle anything you throw at it. The last phrase, "badass big kids' toy," is especially powerful. Jeeps are the perfect mix of childlike optimism and adult power. This quote is probably too long for a bumper sticker, but it might work as wall art. It would probably work best as a caption on social media.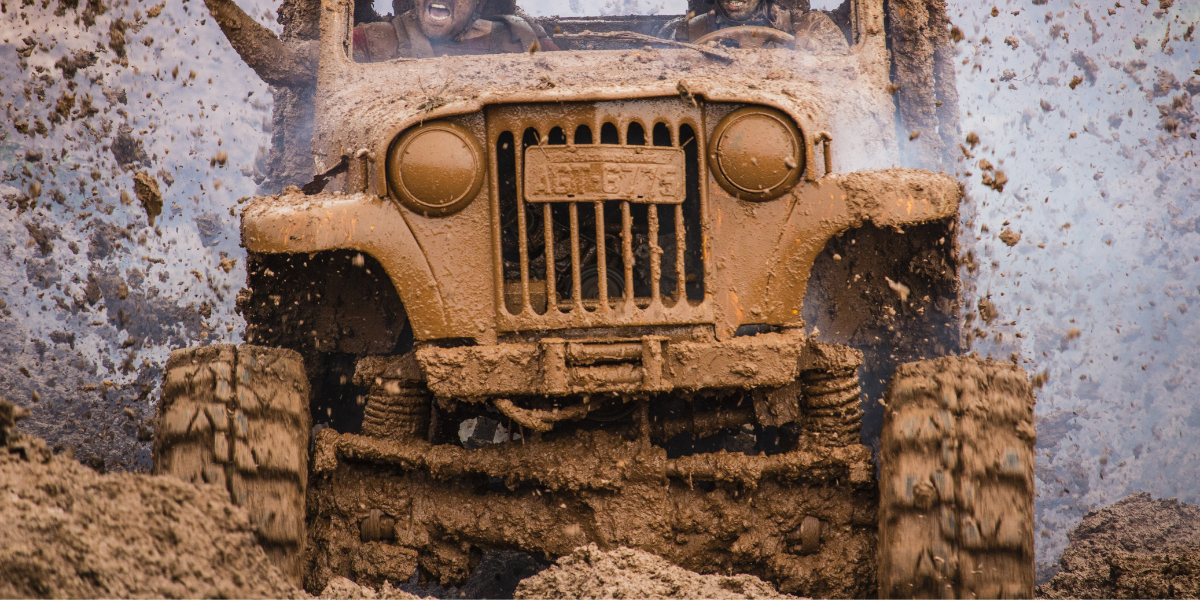 "When in doubt, mud it out."
Life can feel like too much at times. You're thinking about so many different things at once that you don't know what to do. In these times, you need the powerful release that comes from a long session of mudding. If you're feeling overwhelmed by stress, anxiety, anger, or anything else, there's nothing like stepping on the gas and watching your problems fly up and away with the mud.
Quotes for Jeep girls
Jeep girls are girls who love Jeeps a lot and can't get enough of them. Only people who like Jeeps will know what a Jeep thing is. Here are some quotes for the girl who loves to drive a Jeep.
"Sweat dries Blood clots Bones heal. Suck it up! Buttercup. Only the strongest old women drive Jeeps."
"Some Jeep girls have tattoos pretty eyes thick thighs and cuss too much. It's me, I am some Jeep girls."
"You can tell a lot about a woman by her hands. For example, if they're gripping the steering wheel of a Jeep, you should either marry her or run."
Jeep women are some of the most dedicated Jeep fans out there. Their unique mix of unapologetically assertive femininity and the rough Jeep culture makes them some of the most interesting people you'll ever meet.
"My broom broke so now I drive a Jeep."
This funny Jeep quote means you are a "modern and flexible witch." If your broom doesn't work, that doesn't matter! Instead, you can drive a Jeep.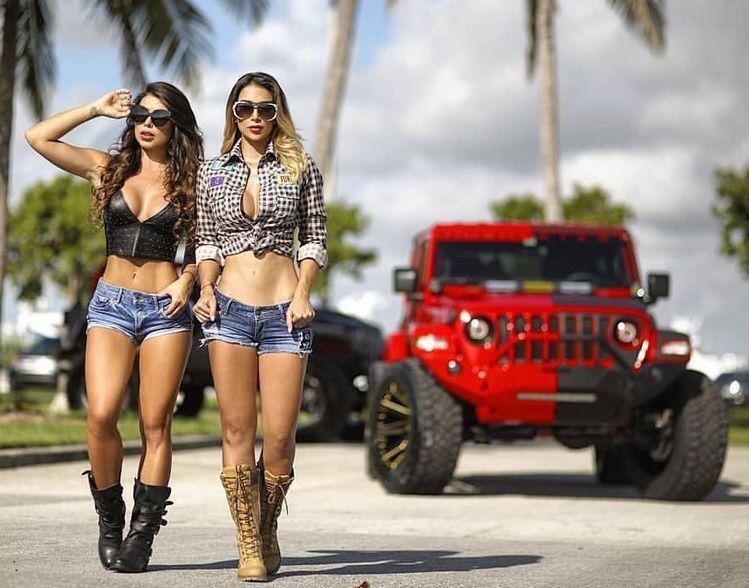 "If she's a Jeeper, she's a keeper." "A girl and her Jeep you wouldn't understand!"
This saying shows how the two ideas go together. It says that women who like Jeeps are so fierce that you either want them on your side for the rest of your life or you want to stay out of their way.
This one is a great, short way for Jeep girls to show their pride. It means that women who are addicted to Jeeps are so great to be with that you will want to stick with them for the rest of your life. This saying looks good on bumper stickers, wall art, Instagram photos of Jeeps, and just about anywhere else. This would look great on the back of a hot pink Jeep if it was made in a nice cyan color.
"Girls always love those three words, 'I gotta Jeep.'"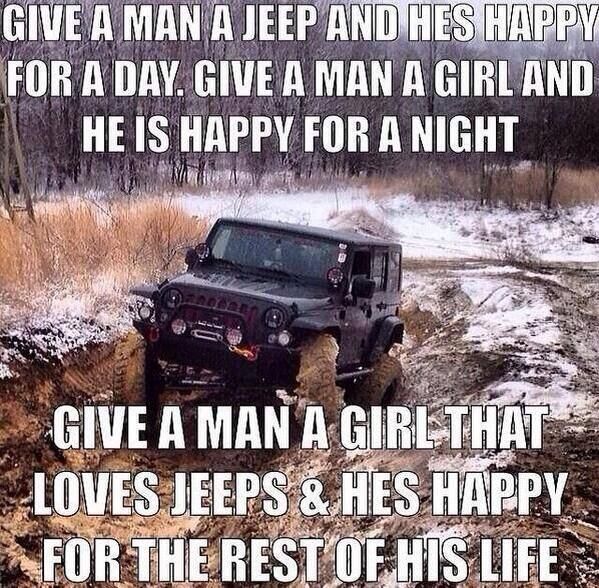 "Jeep hair, don't care." "The best things in life – mess up your hair." "When it gets hot my top comes off"
As women, society usually tells us that we need to look good. That is, our makeup must always look like it was just put on, our nails must be perfectly done, our legs and armpits must be shaved, we must never sweat, and not a single hair on our heads should be out of place.
But there comes a time when freedom without limits has to be real.
Most Jeep girls feel most free when they let their hair down and ride topless. There's nothing quite like driving down an open road with your favorite music blaring on the radio and your hair flying around your head. It's like coming home after a long, hard day at work and taking off your bra.
"The best dads have daughters who drive Jeeps."
Did you know there are many Jeep events in 2023 that you surely want to join? See them here >>
Off-roading Jeep quotes 
"Why do I off-road in my Jeep? Because there's no such thing as memories without adventure."
Jeeps are all about going on adventures. You don't want to look back on your life at the end and realize that you spent the whole time following someone else's lead. Jeeps let you go places and make memories that will last a lifetime.
"Off-roading gives a better view of nature—straight roads lead to the workplace, but difficult roads lead to beautiful destinations."
Nature is beautiful, from the tall, sky-touching trees to the bright, colorful plants that grow in the forests. But most of the time, driving on regular roads means you can only see the beauty of nature from the sidelines. Off-roading is the only way to drive that lets you connect with nature like nothing else.
"I may get lost but I'll never get stuck." "You can go fast but I can go anywhere."
A Jeep is the only car that lets you see in every direction without any obstructions. Even small blind spots can be covered freely, and you can go places that you wouldn't think a vehicle could go. Jeep is without a doubt a fun car that can do a lot of different things and last a long time.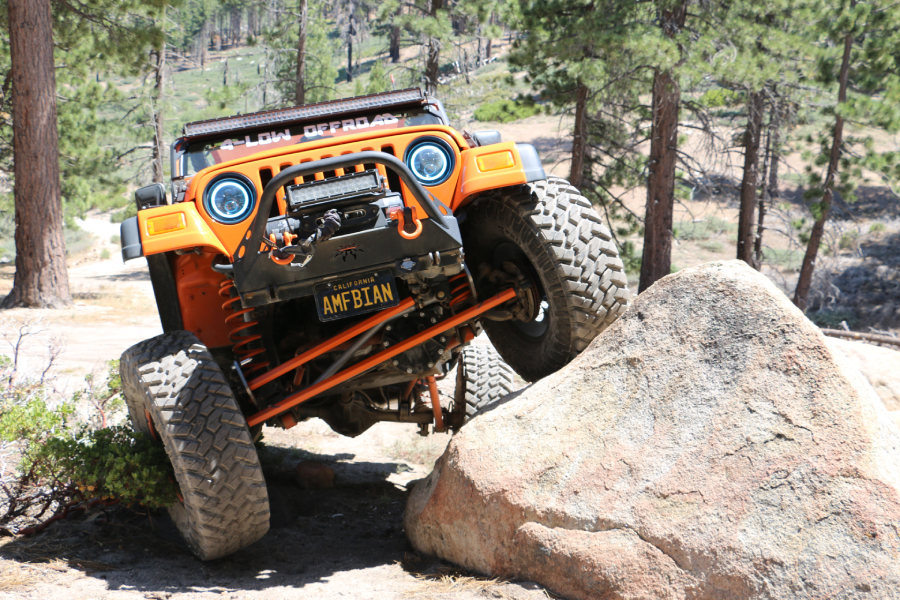 Don't know what to wear for your Jeep tour? Here is the guide >>
Best Jeep quotes for Instagram 
"Jeep because life's too short to drive a boring car."
"If you don't own one you'll never understand."
"Life is simple: sleep, eat & Jeep."
There's nothing else to say about it. It's a popular quote on Instagram because it's simple and powerful. It shows what's important to you: new experiences, new memories, and new frontiers. It also shows that your Jeep is an important part of who you are, just as important as eating and sleeping.
"Imagine life without Jeep: now slap yourself and never do it again."
Jeep fans are some of the most loyal car buyers in the world if there's one thing that's true. By posting this quote, you're showing your followers that you're loyal and that your Jeep is so important to you that you can't imagine life without it.
"Give me the beat boys and free my soul. I wanna get lost in your rock and roll and drift away."
Conclusion 
Whether you drive a Jeep Compass, a Jeep Grand Cherokee, or a decked-out Jeep Wrangler, you're part of the Jeep community, just like Lebron James and Harrison Ford. And that means you get to be a part of the unique and fun-loving Jeep culture, which is based on a life of exploration and adventure.
You can use these Jeep quotes for many things, like decorating your home or garage, making bumper stickers, or posting a picture of your Jeep's best angle with a Jeep quote. Or, even better, make up your own Jeep quote and make it go viral, baby.
Frequently asked questions
Who owns Jeep?
Stellantis, a global company that makes cars, owns Jeep. In January 2021, Fiat Chrysler Automobiles (FCA) and Peugeot S.A. (Group PSA), a French car company, joined forces to become Stellantis. Stellantis comes from the Latin word "stello," which means "to make bright with stars." The name is meant to make you think of a powerful constellation, with Jeep as one of its brightest stars, made up of all the brands that are coming together to form the new company. 
Click here to learn more about who has owned Jeep in the past >>
What does Jeep stand for?
In spite of what many people think, the word "Jeep" is not an acronym. Each letter doesn't mean anything on its own, but it's a reference to another wartime acronym. Some military vehicles are called "GPs," which stands for "general purpose." People were driven around camps and from one base to another in these vehicles. So, they needed four-wheel drive and the ability to go off-road.
So, people think that Jeep comes from the word "GP," which sounds almost like "Jeep." This is where the brand started, and since then, Jeep has become a synonym for 4x4s and SUVs. In fact, other brands of cars that fit this description are often called jeeps.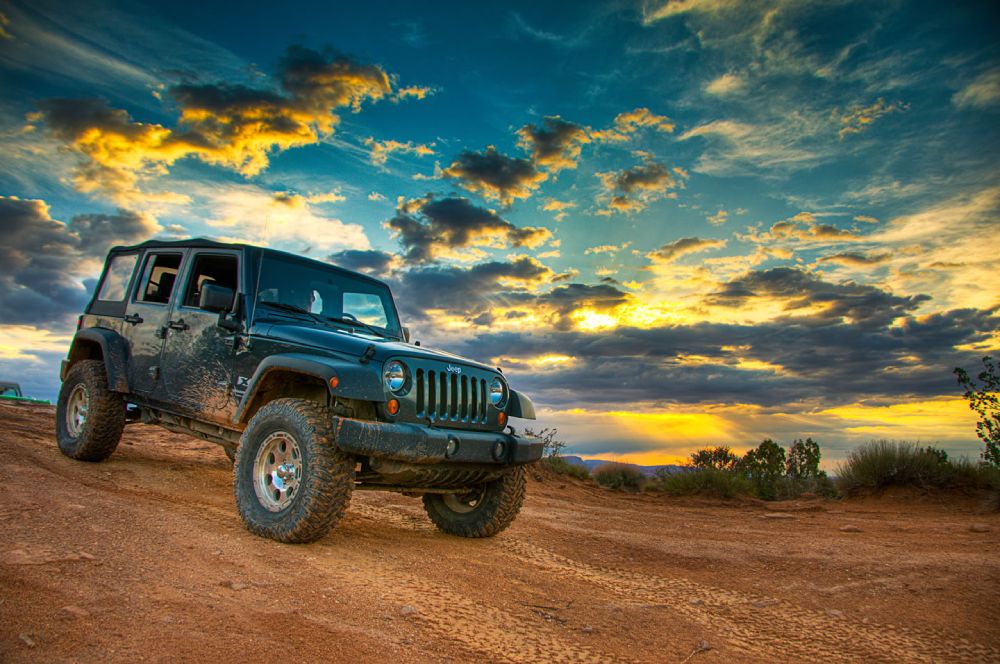 What is the Jeep symbol?
The Jeep logo is simple. It says "Jeep" in Helvetica font and shows the front of a Jeep, including its famous seven-slot grille, in an abstract way.
When did Chrysler buy Jeep?
Chrysler bought Jeep in 1987 when they bought American Motors Corporation, which was Jeep's parent company at the time.
How easy is it to flip a Jeep?
No, it's not easy to turn a Jeep over. Even though they are slightly easier to flip than some SUVs, they are not easier to flip than the average vehicle in their class. It really depends on the model of Jeep and any changes that have been made to it. For example, two-door Jeeps are easier to flip than four-door Jeeps because they are lighter.
How heavy are Jeeps?
Jeeps are right in the middle of the SUV weight range. Most Jeeps are not top-heavy. The Jeep Wrangler feels top-heavy because its wheelbase is short. The Jeep is more likely to flip over at high speeds because it has a short wheelbase, not because it is top-heavy. Jeeps aren't much heavier than any other SUV.
How good is the Jeep Wrangler in the snow?
The Jeep Wrangler is a great car for snowy weather. It has a high ground clearance for rolling over snow drifts, four-wheel drive, and all-terrain tires for better traction. Plus, it has a strong way to heat up.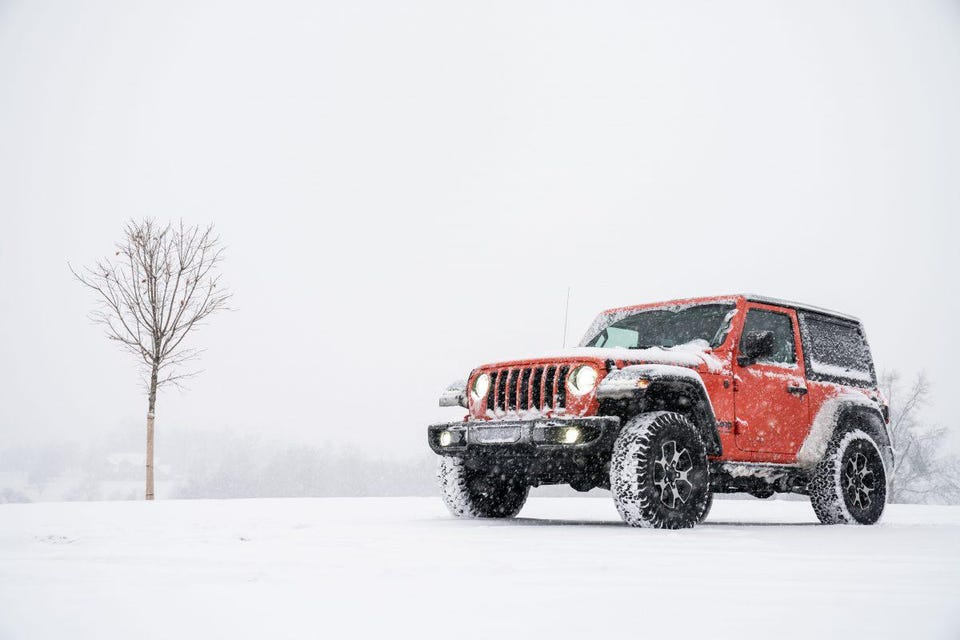 Jeep Wranglers always come with a powerful engine and transmission that work well off-road, as well as dual-wheel drive and anti-lock brakes (ABS). Because of this, they are a better choice for winter driving than many light-duty vehicles. But the Insurance Institute for Highway Safety (IIHS) says in their new list of Top Safety Picks that they are safe enough to drive on ice and snow to be in the Top 10 of all vehicles.
Learn more about how much a Jeep Wrangler costs here >>
How fast can a Jeep go?
That depends on which Jeep you have. So far, the 2021 Jeep Grand Cherokee SRT is the most powerful Jeep. It can go up to 180 MPH.
Do Jeep cars work well in the rain?
"Go Anywhere" is the slogan for Jeep. So, yes, a little rain doesn't bother a Jeep much. Jeeps have good tire grip, four-wheel drive, and a wide base. If you have a Wrangler, make sure that the soft top or hard top is sealed well so that it doesn't leak.
What is the culture of Jeep?
Jeep culture is not a single thing, but most people who buy and drive Jeeps do so because they love the feeling of freedom that only a Jeep can give. Needless to say, Jeepers like to go where no one has gone before. We are pioneers who are always looking for the next adventure, and of course, love the quotes that inspire us to kick off our Jeep tour.
Did you know the secret about Jeep Easter eggs on your cars? Check this out >>