Did you know that your Jeep is full of fun secrets, some of which you might not even know about after driving it for years? That's right, Jeeps have had "Jeep Easter eggs", aka "Jeep hidden animals" for almost 25 years. An "Easter egg" is a hidden signature feature or design flourish that shows both the brand's rich history and its commitment to making even the smallest details perfect. 
How did these Easter eggs start, and, maybe most importantly to you, where can you find these hidden marks on your car? If you own a Jeep and are looking for popular Easter eggs, we've put together a guide to help you find these fun design details on your model.
Since the late 1990s, each Jeep has had a fun design detail hidden somewhere on it. People call these little visual gifts "Easter eggs" because they are sometimes hard to find and because they are small treats. Besides, the brand created them to honor Jeep's long history. These hidden objects, animals, and logos are almost as well-known to Jeep owners as the Jeep logo itself, even though they aren't as clear.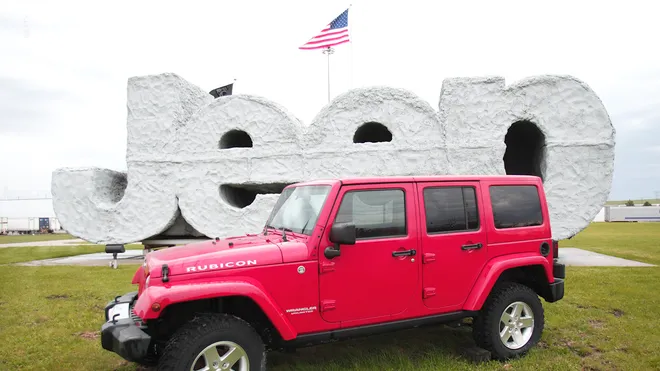 Jeep owners might want to look at their cars more closely: It turns out that the cars have a lot of hidden "Jeep Easter eggs," such as messages, drawings of animals, and other things.
Some longtime Jeep drivers may already know this, but after TikTok user Jackie Foster posted his own discovery on the app months ago, it came as a pleasant surprise to millions.
Some Jeeps make it harder to find these hidden features than others, especially if you don't know what you're looking for. We've put together a handy list of some of the most popular Jeep Easter eggs and where to find them to help you finish your hunt.
Wanna see Vascara's Jeep apparel collection? Click here >>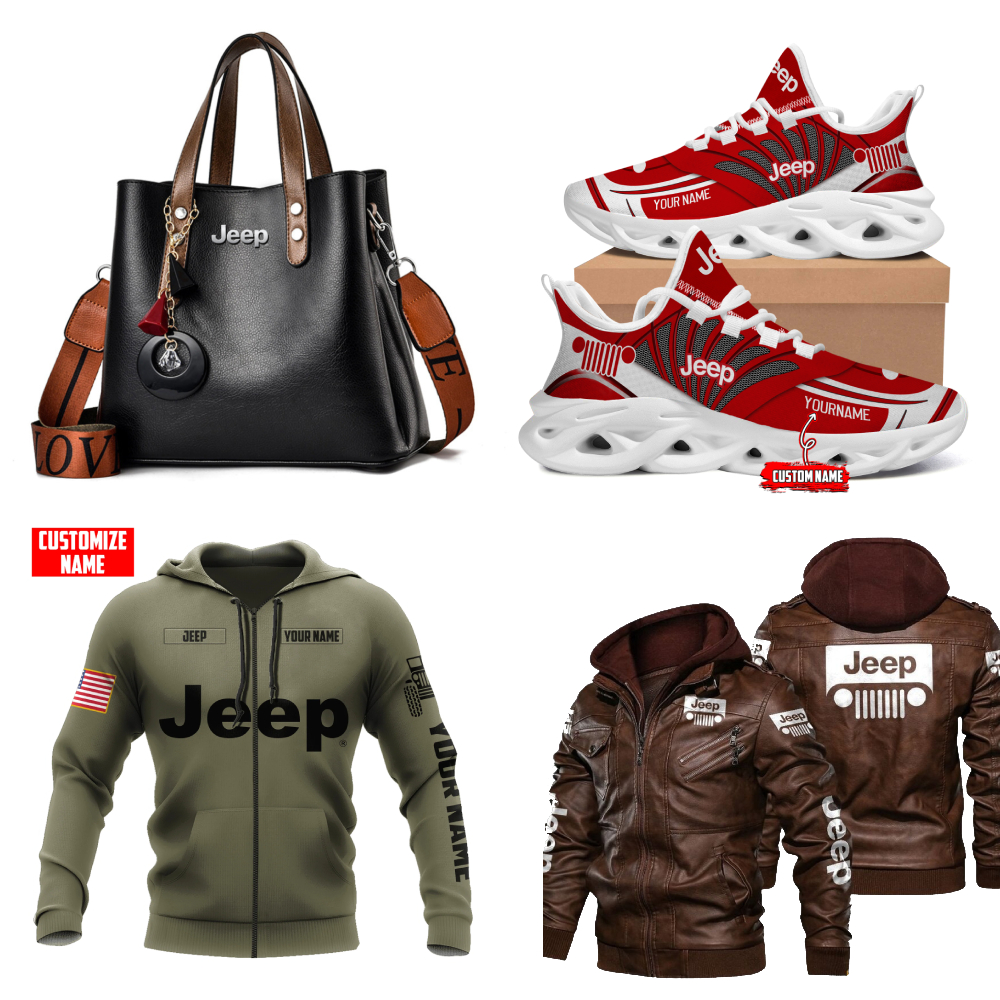 Jeep Easter eggs: A brief history
All the fun began with the 1997 Jeep Wrangler TJ in the late 1990s. Michael Santoro put the famous 7-bar grille on the front of the cowl when he redesigned this car. He did this to show how unique Jeep models are. In addition to being a fun design detail, this first Jeep easter egg let more air into the car, which was an important function. Since that first little easter egg was added to the Wrangler, Jeep designers have had a lot of fun putting their own twists on every vehicle they make. You can find Easter eggs in the headlights, taillights, window trims, cupholders, instrument clusters, liftgate, and many other places that are hard to find.
Officials and designers at Jeep have kept up with the times, coming up with new and creative ways to surprise and delight owners with hidden visual treats on each car. Jeep Wrangler, Jeep Cherokee, Jeep Grand Cherokee, Jeep Grand Wagoneer, and Jeep Renegade all have Easter eggs now. Jeep fans can enjoy the thrill of discovery every time they buy a new SUV because the company keeps coming out with new designs, some of which are only available on one model.
The Spider Easter egg
The spider will be inside the gas cap and will be saying "Ciao baby," which is the Italian word for "Hi" or "Hello." This one is easy to miss if you don't clean the gas cap or check it carefully. Good thing this spider doesn't exist!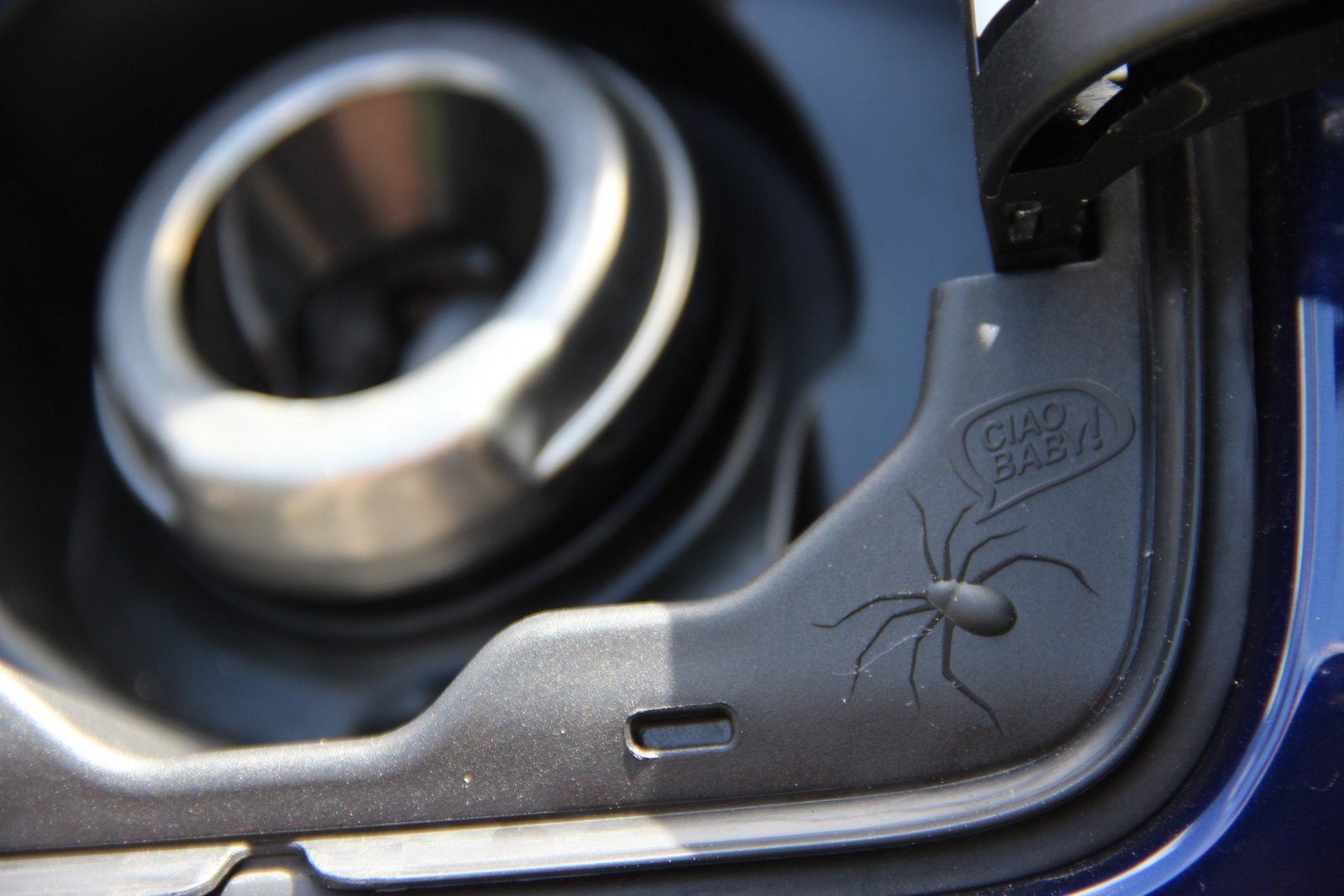 The Gecko Easter egg
The Gecko can be found under the windshield wipers or near them. As one of the bigger Easter eggs, this one might be easier to find. If you haven't seen it, it's probably because it's hard to see from where you are.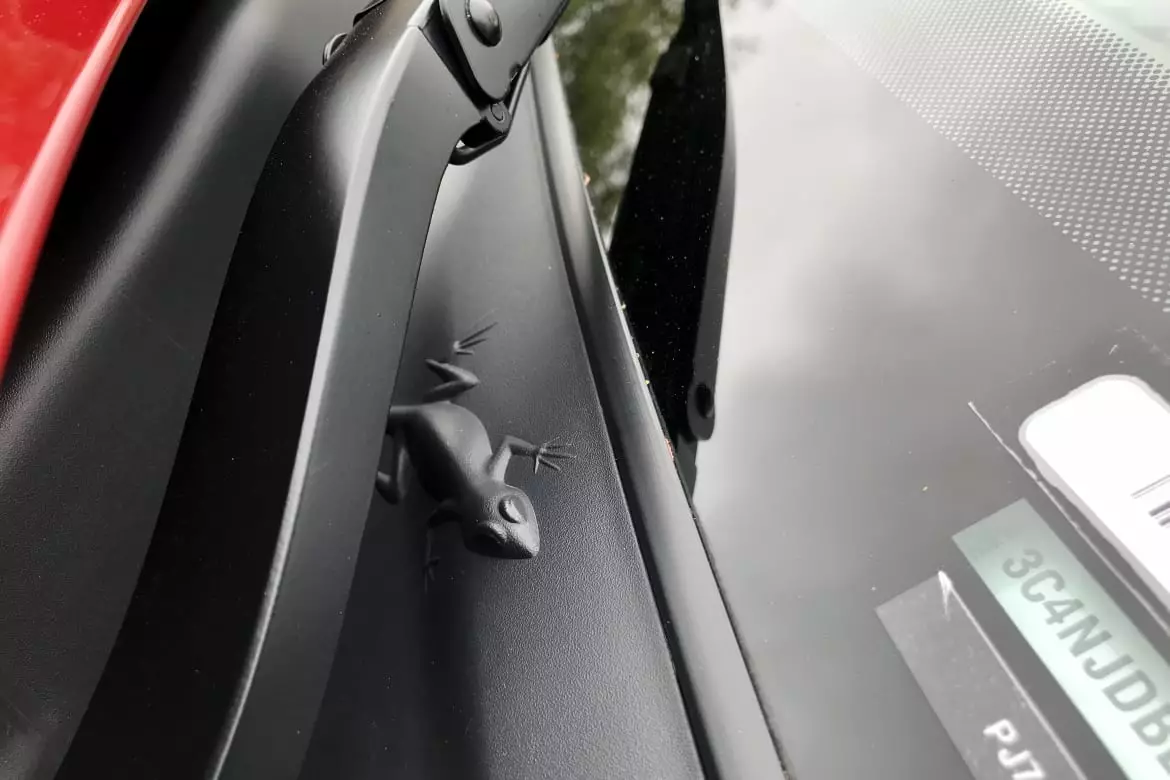 Jeep logo Easter egg
This Jeep is around the edge of the windshield on your Jeep. This logo can be seen in many places, including on the windshield. They can also be found on the edges of the wheels. This Easter Egg is easier to find than other ones.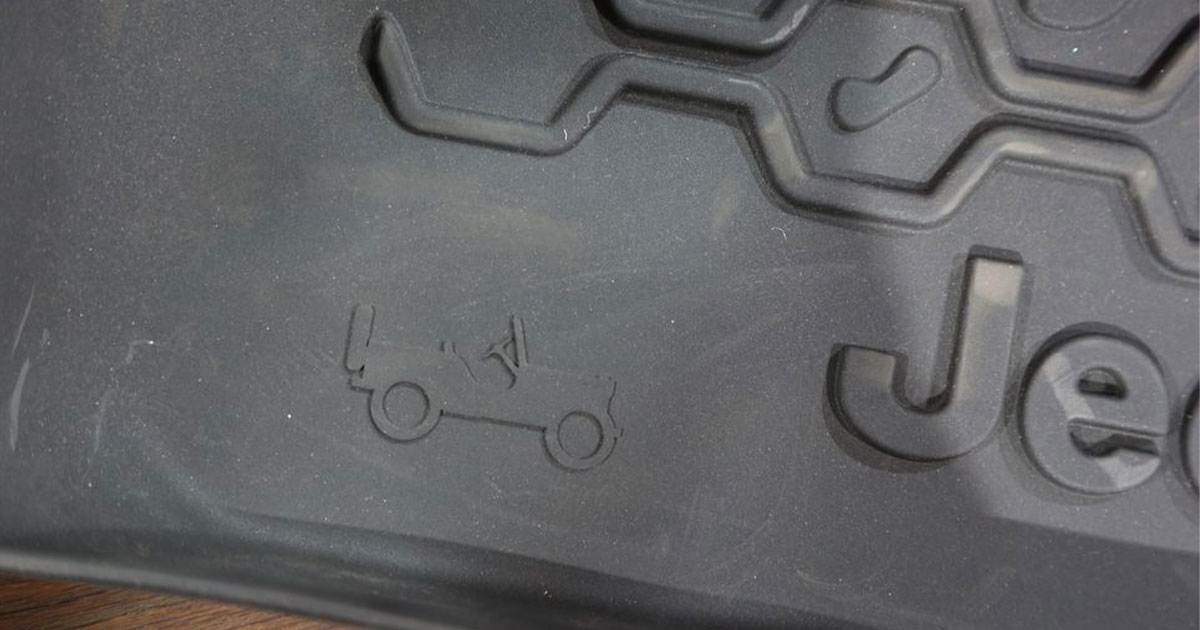 WWII Willy's logo Easter eggs
The Willy's Jeep logo can be found in multiple places on Jeeps.  One of the places you're not going to notice them is on the head/tail lights. As you can see on the left-center of the photo there is a Willy's Jeep Logo. Another spot you can find them is on the rearview mirror mount.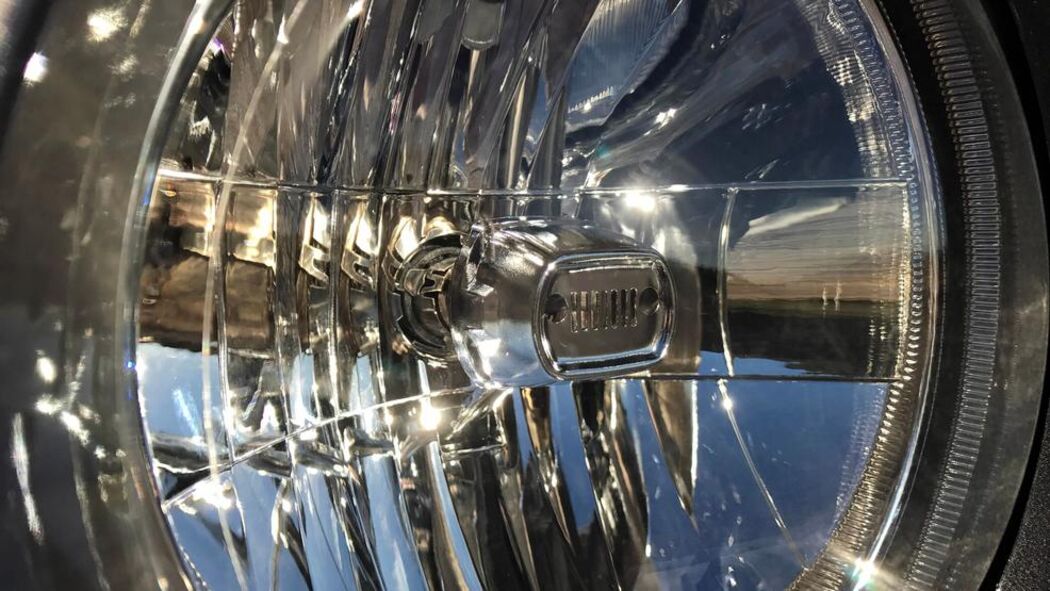 Wanna show your love for the brand? Click here >>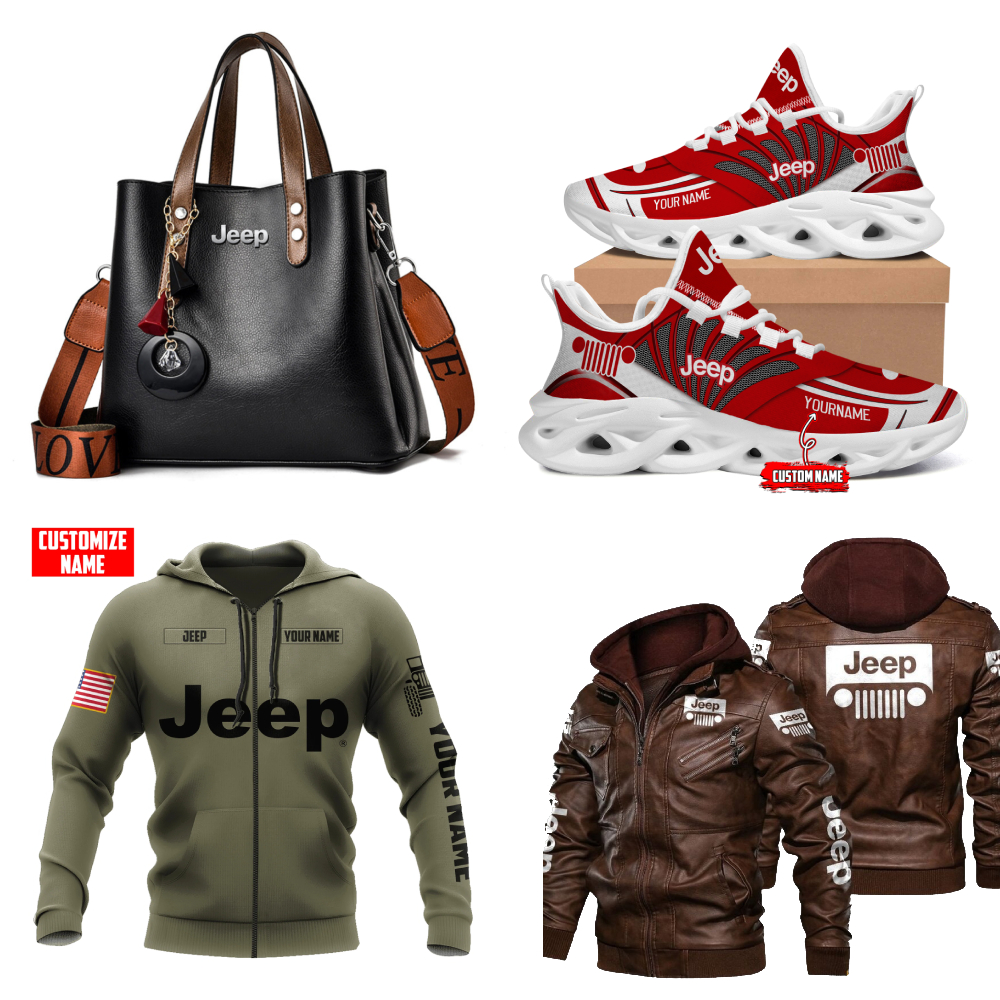 Morse code Easter egg
This one has to be one of the coolest Easter eggs! It is found on the left footrest, down by the pedals. It is actually written in Morse Code and stands for Sand, Snow, Rivers, and Rocks. Make sure to let us know by leaving a comment on all the Jeep Easter eggs you were able to find on your Jeep!
Not only do Jeep cars have full of secrets, but they are also one of the most reliable cars around the world. See more details here >>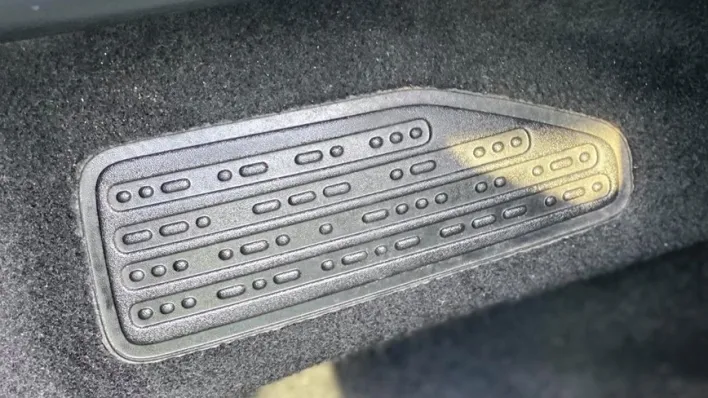 Find out more about well-known Jeep Easter eggs
When you look down at your gear shift and see a topographical map or look out your rear window and see Bigfoot climbing over the plastic molding, it's exciting. This mix of fun and surprise is hard to resist, which is why finding one of these popular Jeep Easter eggs is a big deal.
Where to look for some well-known Jeep Easter eggs
We're not going to tell you all of them because that would take away the fun of finding them on your own, but here are some of the most popular Easter eggs you can find in all Jeeps:
The 7-slot grille is well-known (found on most Jeep models)

The Jeep Wrangler's windshield has a picture of a Willys Jeep going up a rocky hill.

A pair of flip-flops on the front of a Jeep Wrangler or Jeep Gladiator.

A small gecko (found on the dashboard of a Jeep Compass)

The Loch Ness Monster on the back window of a Jeep Compass.

An X, which is the bottom of gas cans on older Jeeps and can be found in the Jeep Renegade's tail lights, cupholders, and on the roof, represents the bottom of gas cans.

A spider that says "ciao, baby!" on the fuel door of a Jeep Renegade.

A small sasquatch on the rear windshield of a Jeep Renegade.

A spot of orange paint on the Jeep Renegade's redline on the tachometer.

On the Jeep Renegade's center console cubby is a topographical map of Moab, Utah.
Check out our best-seller Jeep purse for women this year >> https://vascarabag.com/product/new-jpp-luxury-leather-women-handbag/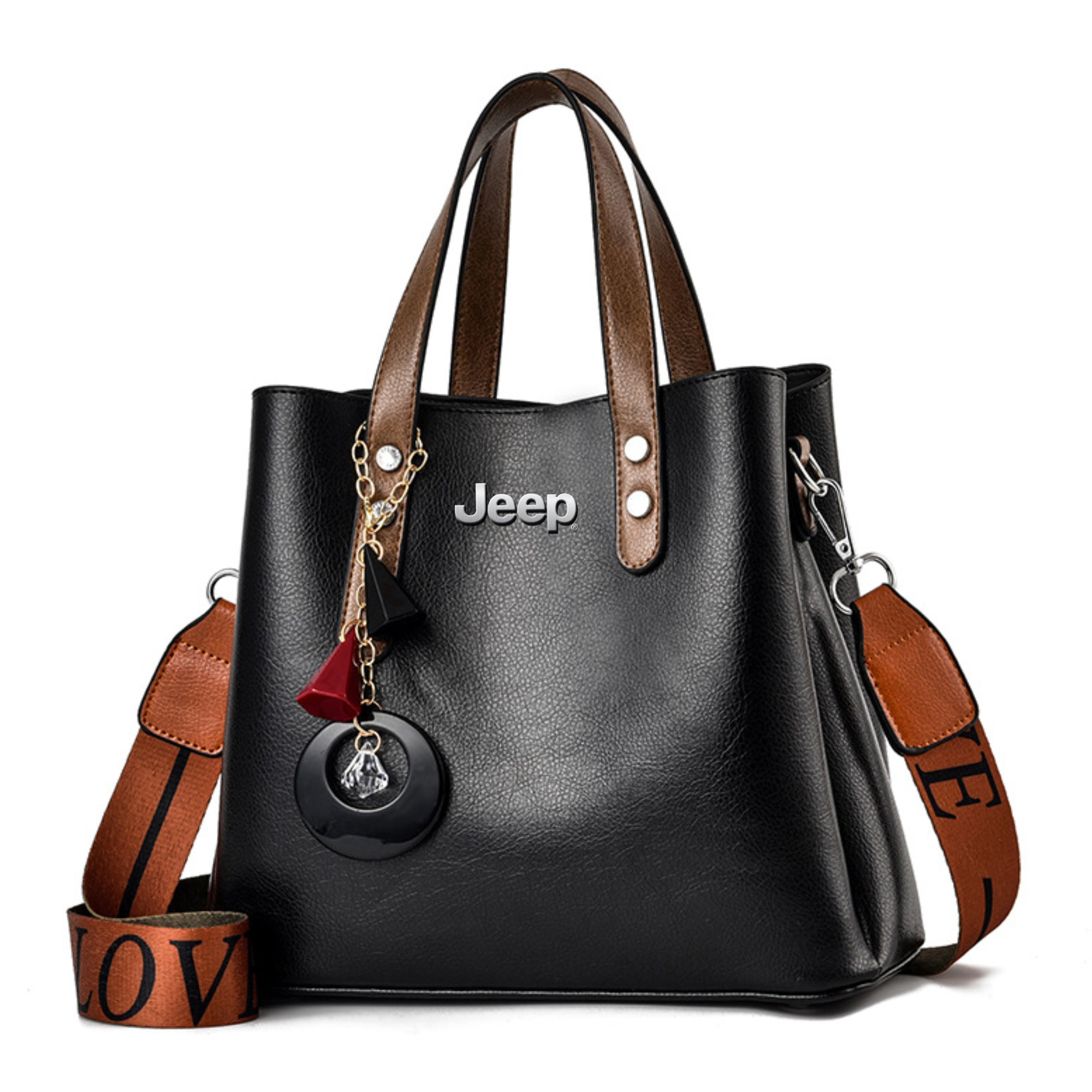 Jeep Wrangler Easter eggs
A recent report on BuzzNick says that for the past 23 years, the American car company Jeep has been putting Easter eggs on their cars like pros. The first Easter egg ever made by Jeep was on the Wrangler in 1997. In the cowl was the famous seven-bar grille. Since then, Jeep has been more careful about where it puts the Easter eggs. The old Willys jeep driving on the windshield is one of these well-hidden things.
Jeep Cherokee Easter eggs
The report also says that Jeep Cherokee owners have found a sticker in the middle of the windshield that shows a small Jeep climbing up a mountain. This Easter egg is a nod to the 1941 Willy Jeep, which was used in World War II. In the Jeep Cherokee, there is a cool Easter Egg carved into the plastic of the back seat.
Jeep Renegade Easter eggs
Another article on Car & Driver says that the biggest Jeep grille mark is on the underside of the Jeep Renegade hatch. The Jeep Renegade Limited series, tested in 2019 also had Easter eggs. In 2019, there is an Easter egg that says, "To new adventures." This really fits with what a Jeep is and how it makes its drivers feel. When the gas door is opened, a friendly spider speaks in Italian, which is the native language of the people who build the Renegade and the Fiat 500X. This is just a small selection of the Easter eggs that Jeep owners have found in recent years. It's possible that there are still more to find!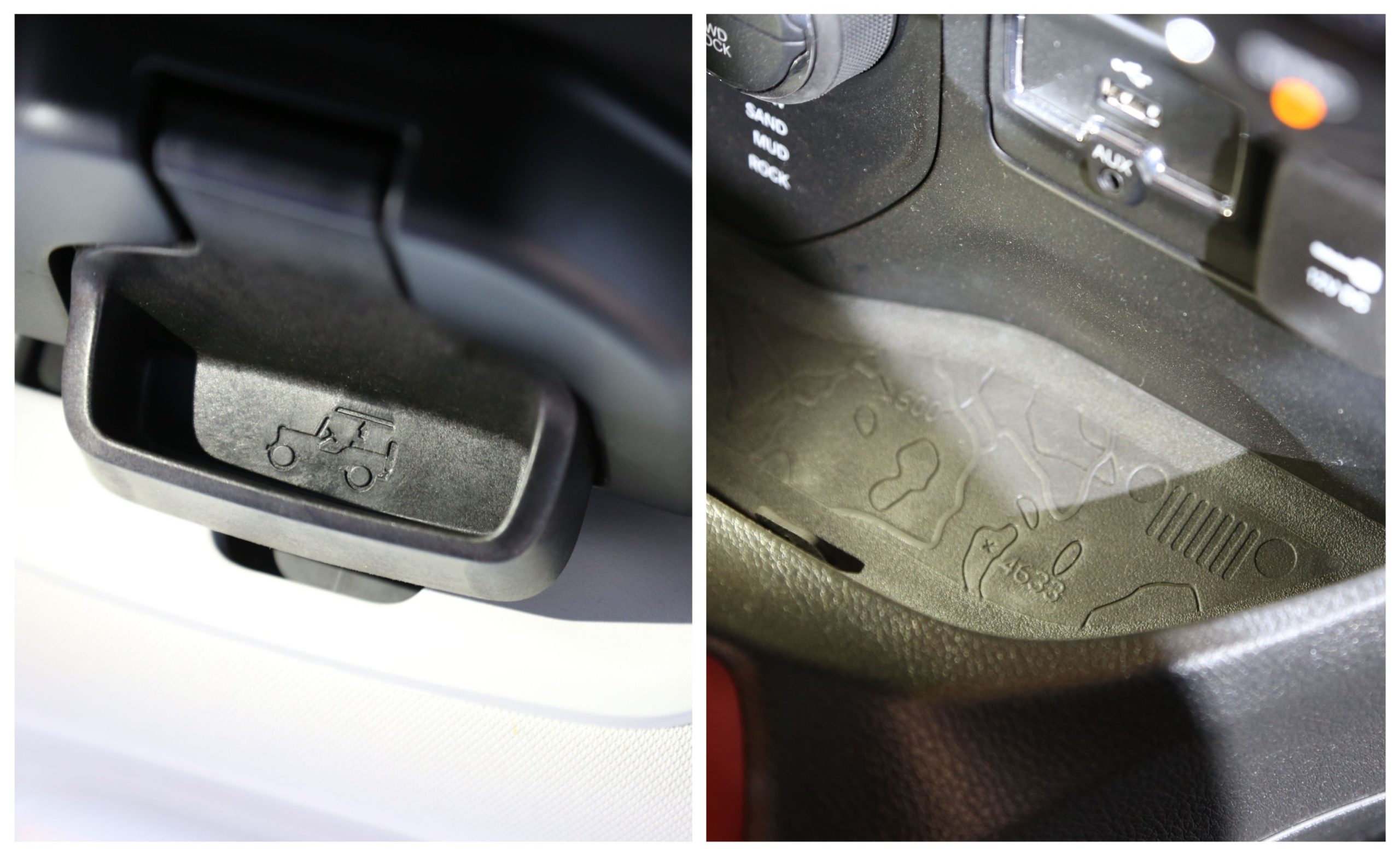 Frequently asked questions 
Do all Jeeps have a hidden easter egg?
Most Jeeps made in the last few years do. There is a hidden Easter egg in the Jeep Renegade, Wrangler, Cherokee, Grand Cherokee, Compass, and Gladiator like we explained above.
Another very interesting thing about Jeep culture is the Jeep wave. Learn more about it here >>
How do I find my Jeep hidden Easter eggs?
Some Easter eggs are easy to find, but not all of them are. You might have to look through the whole car to find yours. Check out your steering wheel, your taillights, and even what's under your floor mats.
What kinds of Jeeps have hidden animals?
Many Jeep models have animals hidden inside them. The Jeep Compass has a Loch Ness Monster on the window and a gecko on the plastic molding of the windshield. There is a spider next to the gas cap on the Jeep Renegade. And the Cherokee's windows could have a T-Rex or a Bigfoot. Go on your own little Easter egg safari and find those animals.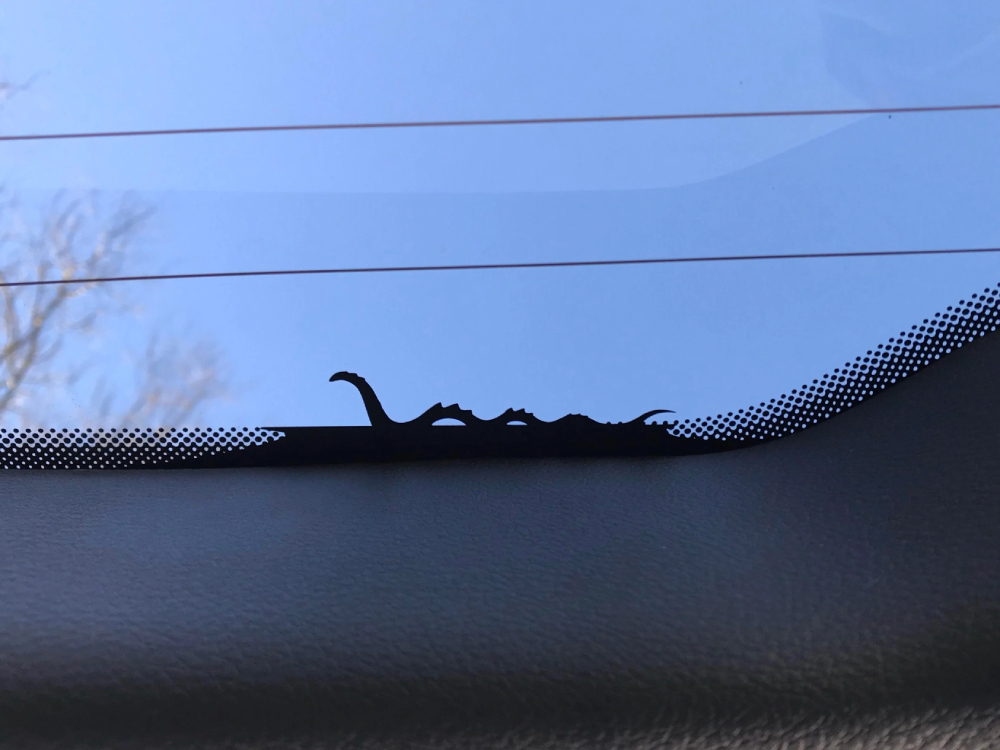 What year did Jeep easter eggs start?
The 1997 Wrangler was the first Jeep to have an Easter egg. Under the cowl panel, the owners found a model of the seven-slot grille instead of an animal.
Check out Vascara's best-seller Jeep sneakers for men and women >> https://vascarabag.com/product/customizable-jpp-breathable-chunky-sneakers/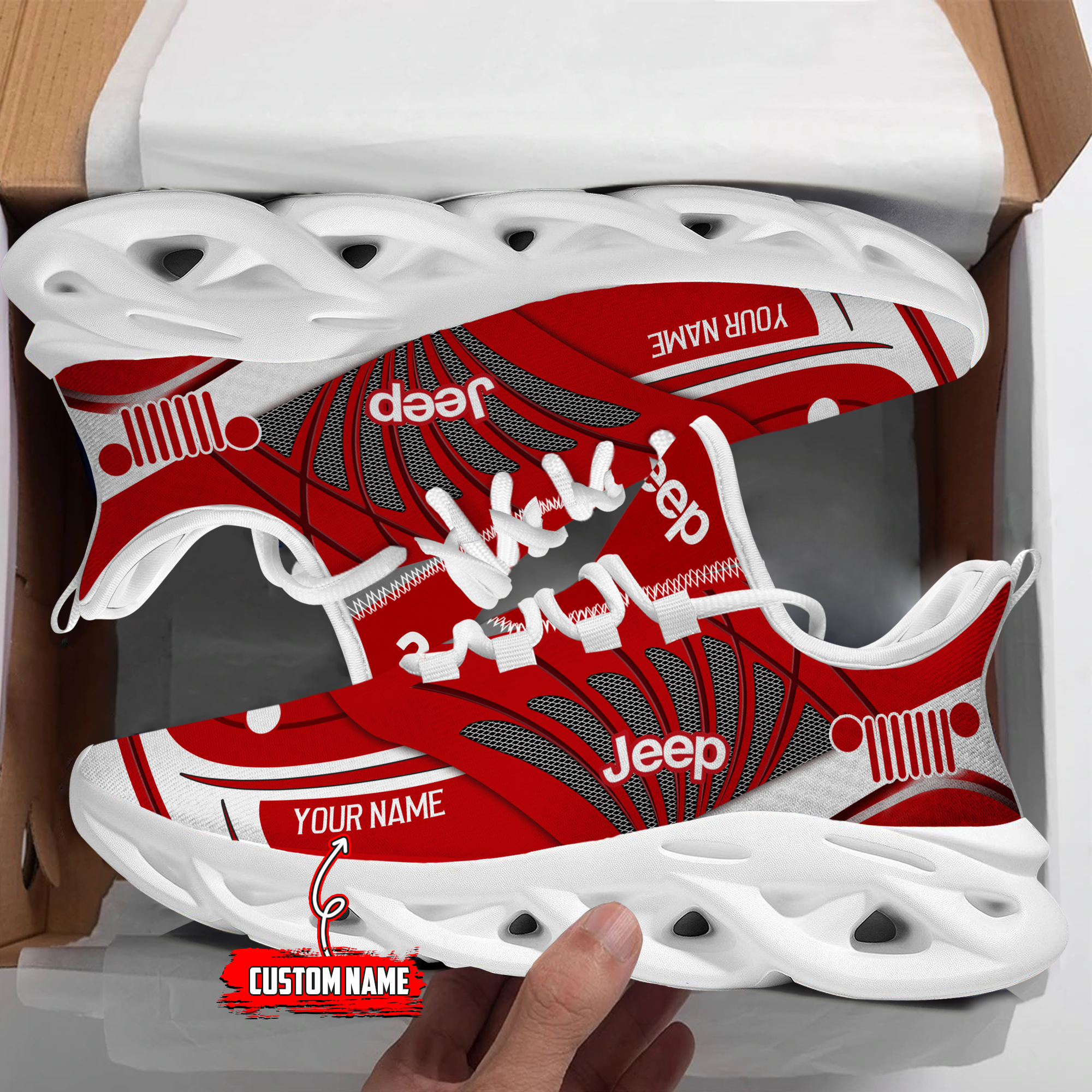 Do 2020 Jeeps have easter eggs?
Yes, they do! After the TikTok user posted a video about finding a spider in her new car, Easter eggs became very popular in 2020. Users also saw a heart symbol and the number "419" on the Jeep Gladiator's dashboard, as well as a grille design with seven slots on the truck bed. There are Easter Eggs all over the 2020 Renegades, like seven-slot grilles, a map of Moab, and taillights and cup holders in the shape of an X. Jeep Compass drivers found the Loch Ness Monster and a gecko in their cars. Meanwhile, Cherokee drivers found "Since 1941" on the bottom of the steering wheel. Wrangler JLs have sandals and a logo with the letters "JL" in morse code. And those are just a few of the Easter eggs you can find in the 2020 Jeep line.
Where on a Jeep Rubicon is the Easter egg?
Jeep's design team has come up with some pretty clever ways to hide their Easter eggs. On the passenger side of the windshield cowl, there are flip-flops. There are seven slots under the hood, above the headlights, on the back of the tailgate, and under the cowl. And there are silhouettes of Willy's cars all over the Rubicon, including on each wheel, the shifter, the window, and the floor mats. On the floor mat, there is also a map of the area and a dinosaur skull. And this is just a small number of them. We're sure you'll find more.
What does Jeep ducking mean?
Jeep ducking is a way for Jeep owners to say hello to each other by putting a rubber ducky on someone else's Jeep. It began in Ontario, Canada, in the year 2020.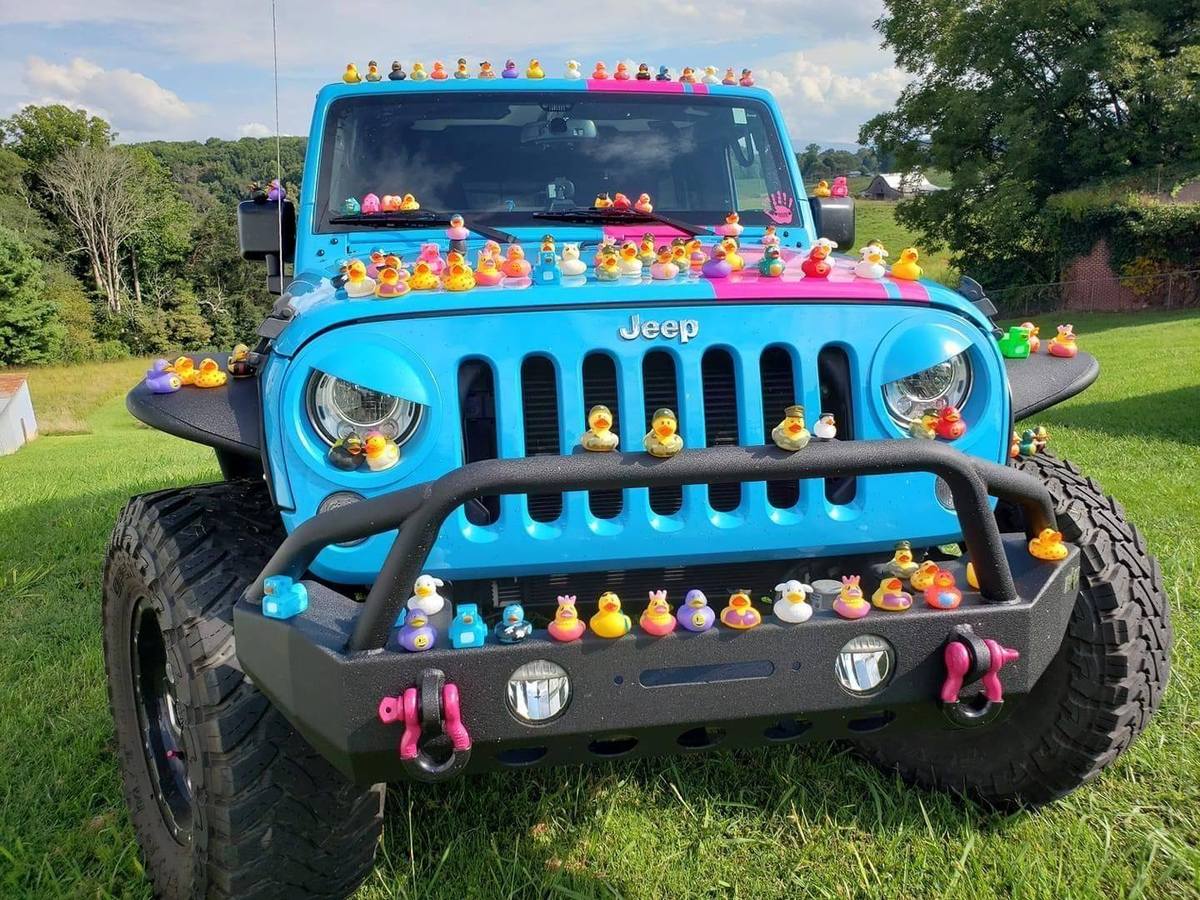 Want to improve the way you duck? Learn more about Duck Duck Jeep here >>
What is that snake doing on my Jeep?
If you look at your Jeep and see a sneaky gecko made of plastic, you've found an "Easter egg." People say that these little stickers and hidden figures are a nod to the Jeep brand's best features, such as its gecko-like grip when driving off-road.
Do Jeep Cherokees have hidden easter eggs?
Yep! Every Jeep model, including the Cherokee, has hidden Easter eggs.
Where on the 2021 Jeep Grand Cherokee are the easter eggs?
There are a lot of Easter eggs in the Jeep Grand Cherokee L. You can find a map of Detroit and the 313 area code if you look under the hood. Look under the fuel door, and you'll see a Willys Jeep. Next to the Grand Cherokee logo on the outside is an American flag, and "Since 1941" is at each end of the dashboard. On the driver's side of the third-row seat, there is a Willys Jeep climbing the glass. On the passenger side of the windshield, there is a seven-slot grille and headlights. Those are just a few of the Easter eggs. You're likely to find more!
What does a Jeep's star mean?
The Freedom Star on a Jeep shows that it was originally made for the military. Some people think that veterans put it on their cars, but that's not true.
Read more to find out Who owns Jeep now here >>