You wouldn't believe it, but leather is surprisingly easy to work with, and you can even make a leather bag look like it's brand new again. It's true that this material is very strong and long-lasting, but over time or from lack of care, leather's look will change and even get worse. But what can really go wrong, and how can a leather bag be fixed?
Well, leather tends to get stiffer over time, and this usually happens when the bag gets very wet or dry. On the other hand, leather is just as likely to get dirty, stained, or scratched like any other accessory, so it will always need care.
As for how to make a leather bag look new again, it usually just needs to be cleaned and cared for regularly. So, let's look more closely at how the process works. The truth is that a leather bag's condition also depends on who owns it. That is to say, leather bags tend to last a lot longer if you take care of them. Even after cleaning, you still need to give them regular care and attention to make sure it doesn't happen again.
At the same time, you should know that it's normal for leather to change in some ways. You see, leather patinas over time can make a leather bag look different colors in different places. But this is a sign that the leather is good, and it happens to all leather products.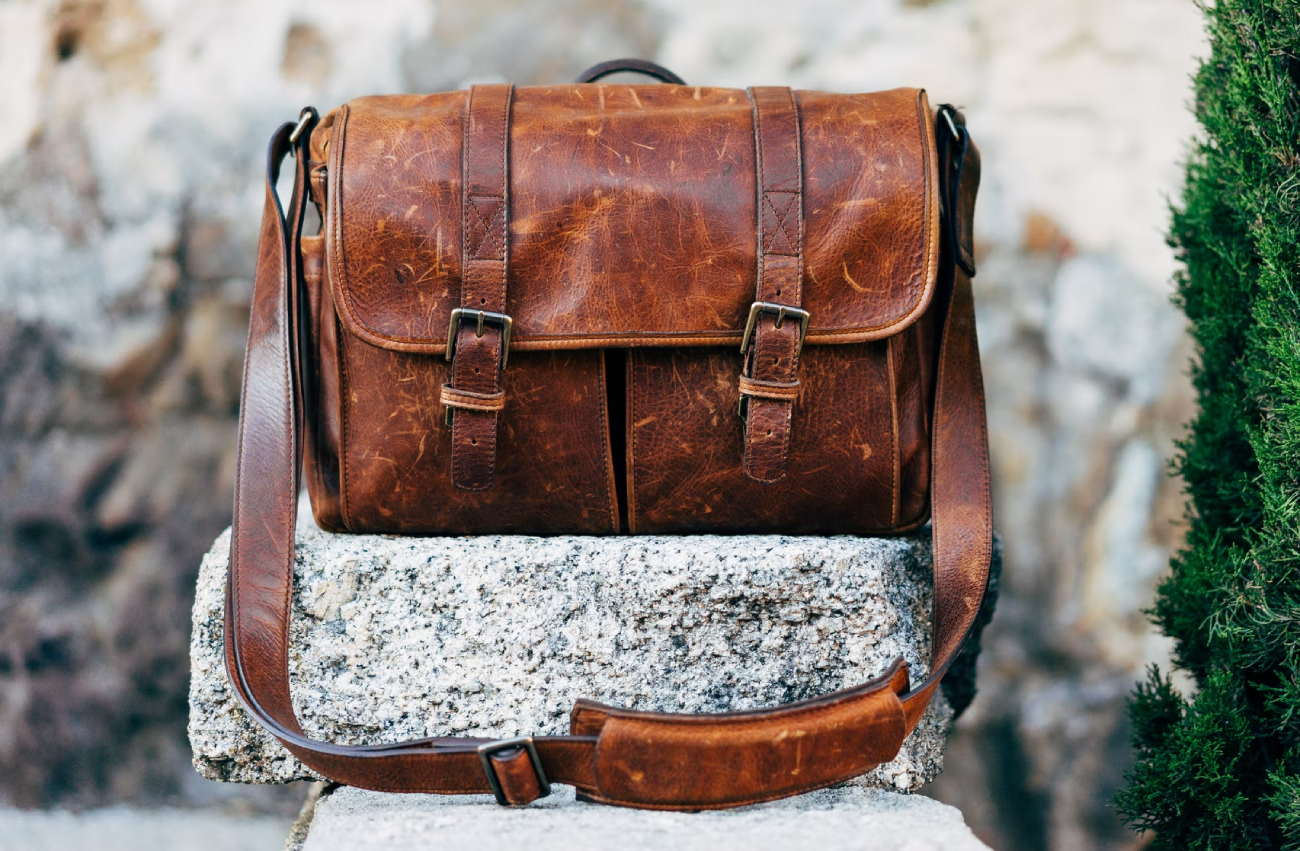 How to take care of a vegetable-tanned leather bag
Bags made of leather that have been tanned with plants have a thin layer of protection, but this won't last forever. Because of this, it's best not to get a leather handbag wet at first, because it takes time for the fibers to loosen, which makes the leather less likely to get damaged by water.
Still, you should know that dye can sometimes get on the edges of a leather bag if you see stains in the first month. In fact, this is normal for bags made of leather that has been tanned with plants, and it's one reason why they tend to last so long. Even though the dye will be gone after a month or two, you should be careful about where you put a new leather bag at first.
How to clean a leather bag and what to use
First of all, you should never clean leather with a cleaner that has bleach or ammonia in it. Also, water can stain leather, so try to make sure that the material is damp instead of wet.
This is a great way to get rid of scuffs and stains from ink. Put some nail polish remover or rubbing alcohol on a cotton swab and lightly dab the stain. Don't rub, or you might spread the ink. Blot the stain gently until it's gone. Use a clean, damp cloth and a towel to dry.
Cornstarch or baking soda
You can clean greasy spots or patches of oil off a leather bag with cornstarch or baking soda. Just put one of these solutions on the spot that needs fixing and rub it in with a damp cloth. After letting the bag dry for a night, you should be able to see that the starch or baking soda has absorbed the oil or stain, leaving behind mostly powder that can be wiped away.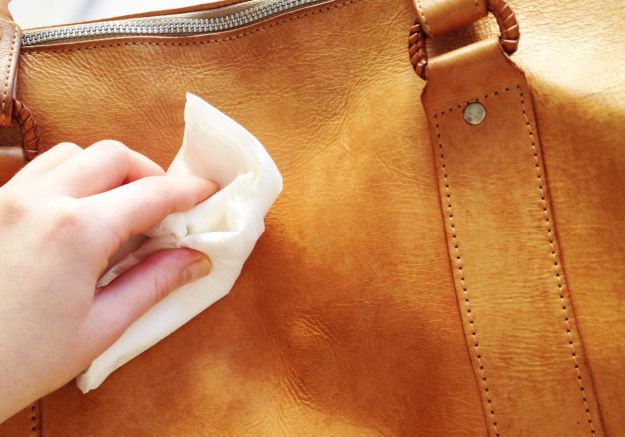 Creme de tartar and lemon juice
You can also make a paste out of tartar cream and lemon juice that is great for getting rid of stains. After putting some of this solution on the stain, let the paste sit for 30 minutes. Then, use a damp cloth to remove what's left. Simply put, this paste acts as a mild bleach and works best on leather bags that are light in color.
Leather-cleaning products
There are also things you can use to clean a leather bag, like leather cleaners. Even though there are different colors, choose a neutral cleaner and test it on a small patch before using the same method on the rest of the bag. And that's just the beginning…
To clean a leather bag, you'll need a sponge, some cloths, saddle soap, and a special dressing with neatsfoot oil. If you're wondering, you can get this dressing at many department stores, and saddle soap is just a type of soap that is made to clean leather. Here are some quick steps on how to use cleaning products to clean a leather bag the right way.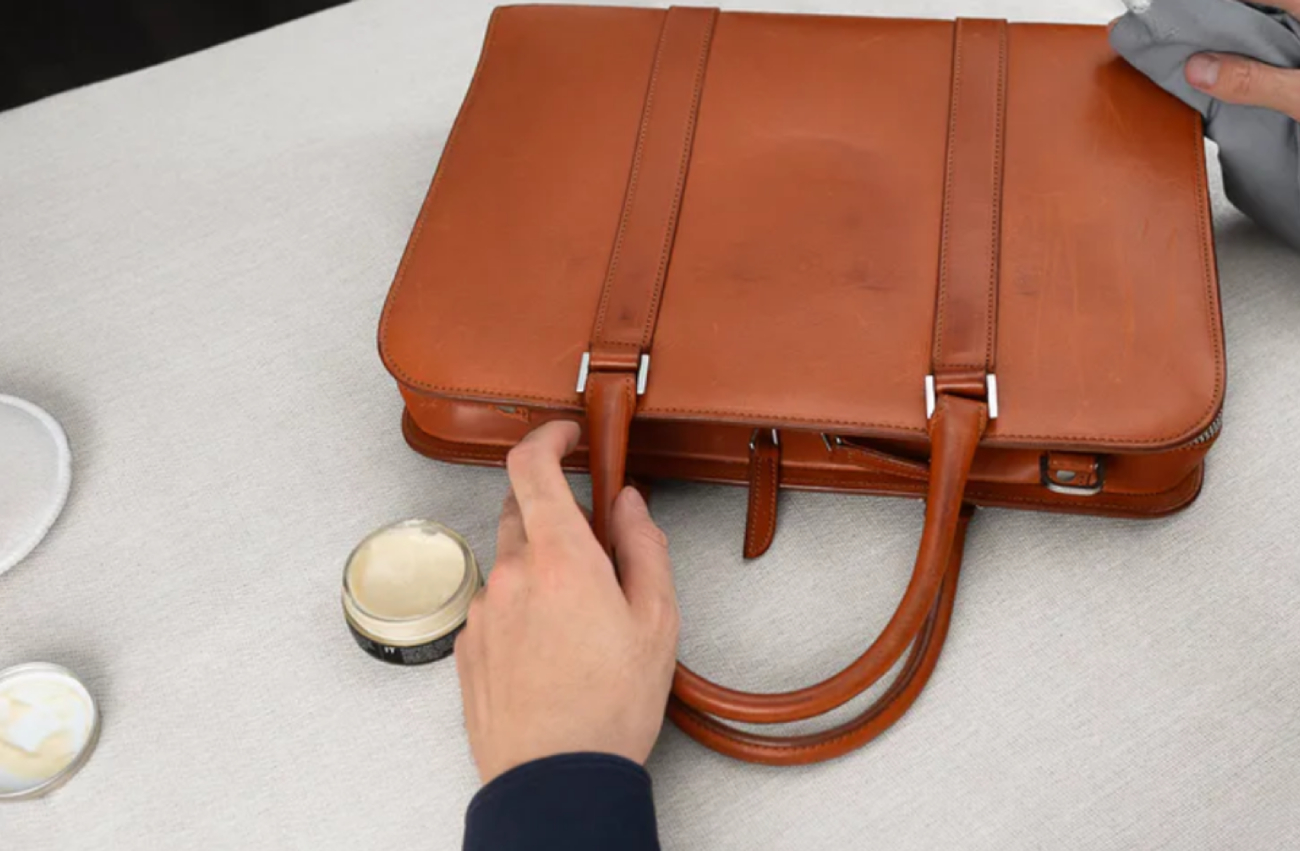 How to clean a leather bag so it doesn't get ruined
1. Use saddle soap to clean the leather
To clean the leather, use a damp cloth and saddle soap. But make sure to squeeze out all the extra water from the cloth so that the leather doesn't get too wet.
2. Wipe the bag clean of all soap and water
Wipe off all the saddle soap with a separate damp cloth and do this many times, squeezing out the water as you go. Make sure you get every last bit of soap and water out of the bag.
3. Polish the leather with a dry cloth
Start buffing the leather with a dry cloth. Make sure that the bag and any straps or buttons that might be attached to it do not have any moisture on them.
4. Use your fingers to spread some dressing on
When the leather is completely dry, you can use your fingers to rub on a dressing made with neatsfoot oil. It will take a few hours to soak into the leather, but you can do this process again when the leather gets softer.
5. Let the bag of leather dry
Lastly, leave the bag out to dry overnight. Try not to leave anything touching the fabric. It's true that you need to take care of a leather bag if you want it to last, but as you can see, this material is easy to bring back to life. In fact, this is just one more reason why you should love leather and keep wearing one of your favorite accessories.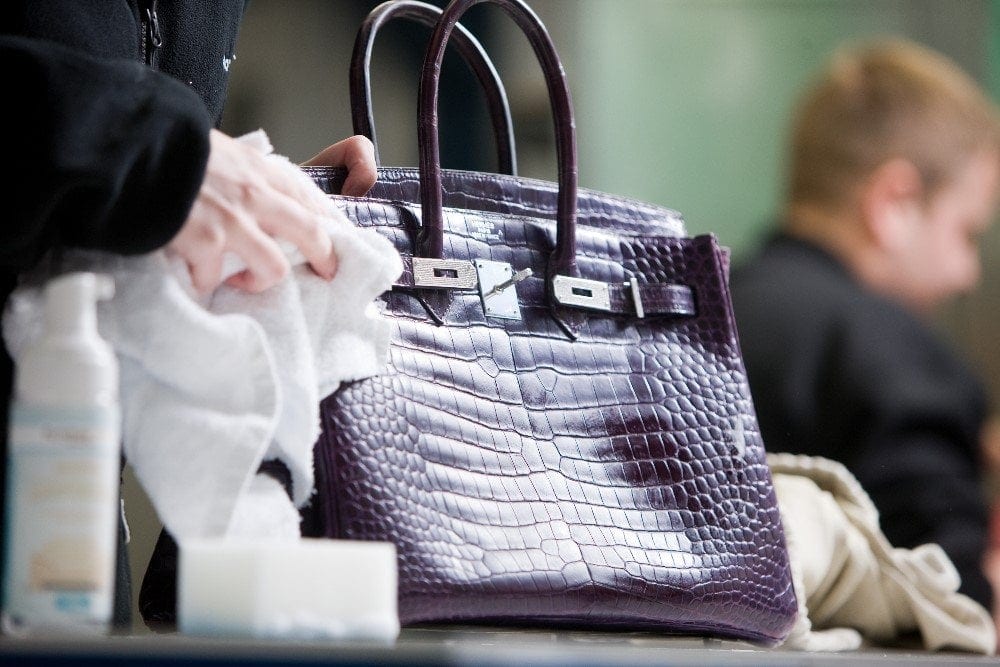 How to Look After Leather Bags
Leather is a material that people have been using since the beginning of time. Leather has been used for many different things over the years, such as clothes, decorations, accessories, and so on. It is possible to change the shape. Leather is an important part of women's fashion because it can last for a long time and let air in. This is the main reason why it is so popular.
One of the most important fashion accessories for women is leather. One of the things women can't live without is a bag, which can hold everything from belts to earrings to shoes. Bags made of leather, suede, fabric, etc., have been more popular than other types of handbags, Like other leather items, leather bags are harder to clean and care for than other types of bags.
No one wants to be in a situation where they have to buy bent leather goods quickly and with excitement. Since skin is a natural material, the products may dry out and crack if you don't pay attention to a few things when you use, clean, and store them.
In short, leather products can last for a long time if they are cared for properly and used and stored in the right way.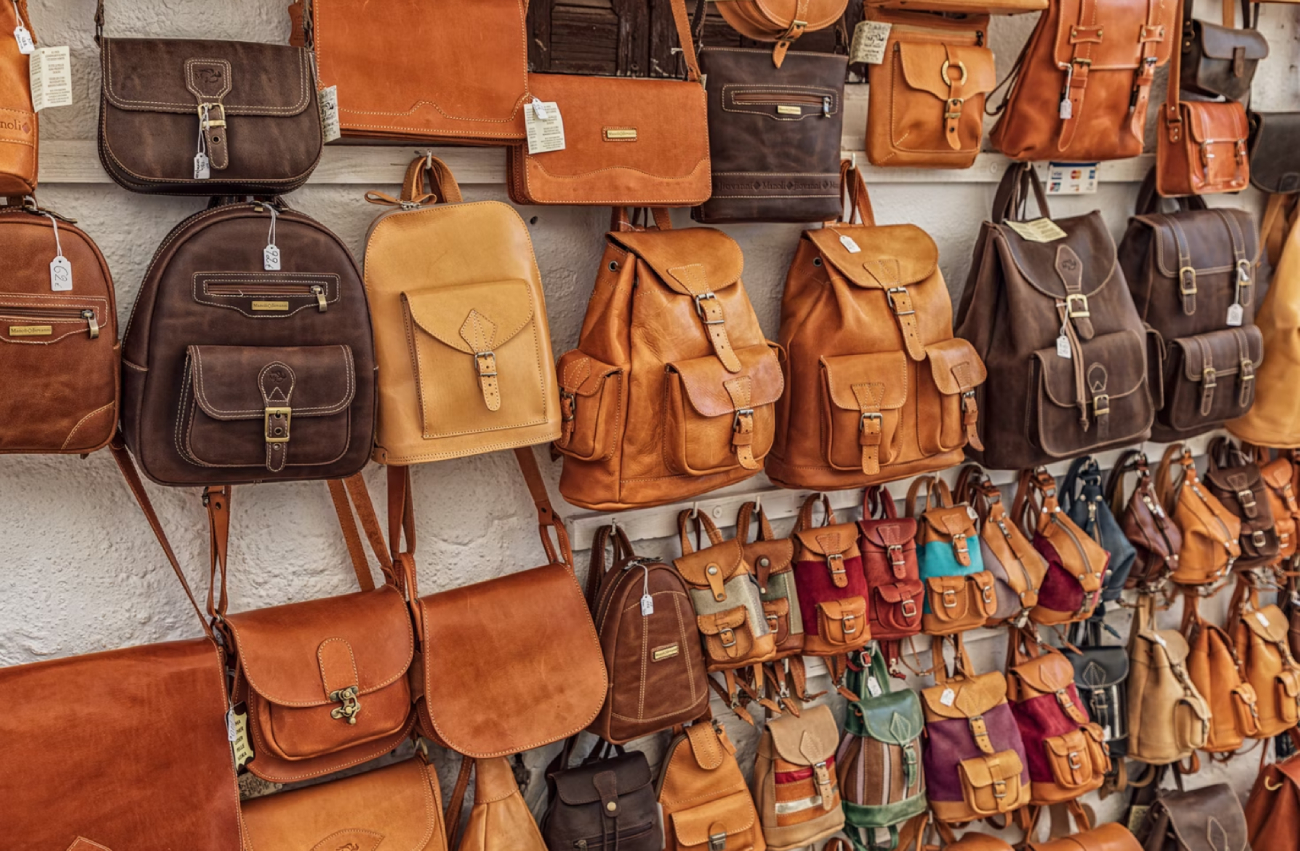 You can polish leather bags to keep them from getting stained from wet things like rain and snow. If your bag has water stains, you can keep it in water vapor for a while and then polish it to dry. If there are chemical dyes in your bag, you should have it dry cleaned.
Can the Leather Bag be washed in a machine?
Washing bags in a washing machine is easy for most women. Because of this, they want to wash everything in the machine. However, if you want leather items to last a long time, you shouldn't put them in the machine.
If you want your leather bag models to stay as good as the day you bought them and last longer, don't wash them in the machine. By doing the things listed above, you can get very good results.
If you want to find out more about Vascara's leather handbags, you can check out her website to see her new designs. Start the trip right away >>