When it comes to Harley Davidson motorcycle riding, it's critical that each rider dress appropriately to stay safe. Because of pricing and/or the lack of attraction that some motorcycle gear may have, this might be tough at times.
Women who ride motorcycles must always wear the right protective gear to safeguard their safety. Injury prevention should always be considered among motorcyclists, whether male or female.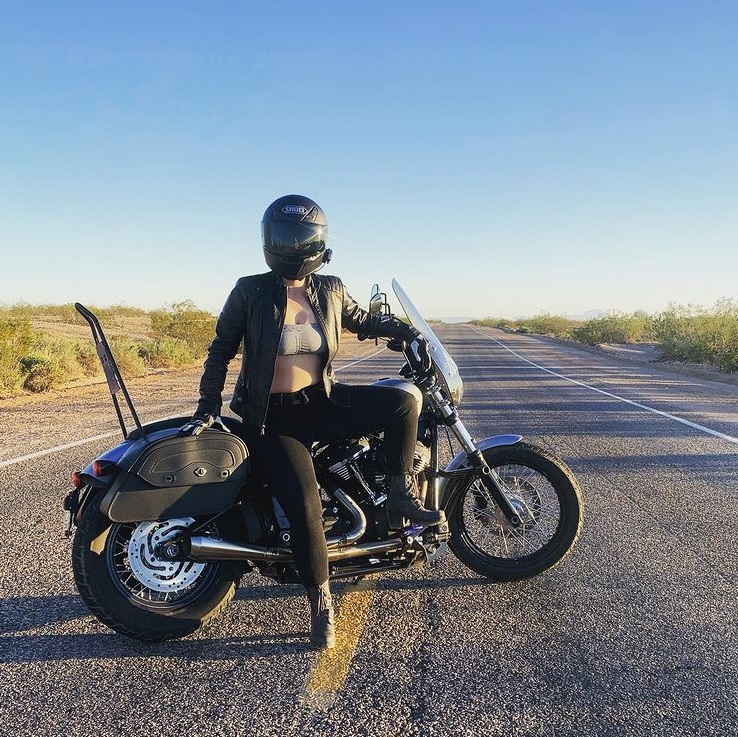 On a Harley Davidson motorcycle, what should a woman wear? Women must wear full-face helmets whether they are traveling as passengers or driving a motorcycle. Women should also consider wearing long leggings, ankle-length boots, and a robust jacket with protective gloves, just like everyone else.
This article will go over what women should wear while riding a Harley Davidson bike in order to stay fashionable and express themselves in their own ways.
What To Wear
1. Helmet
First and foremost, no matter how quick the ride is, every woman riding a motorcycle should always wear a helmet. It should also always be a full-face helmet, not a half-helmet (or "brain bucket," as some people refer to it).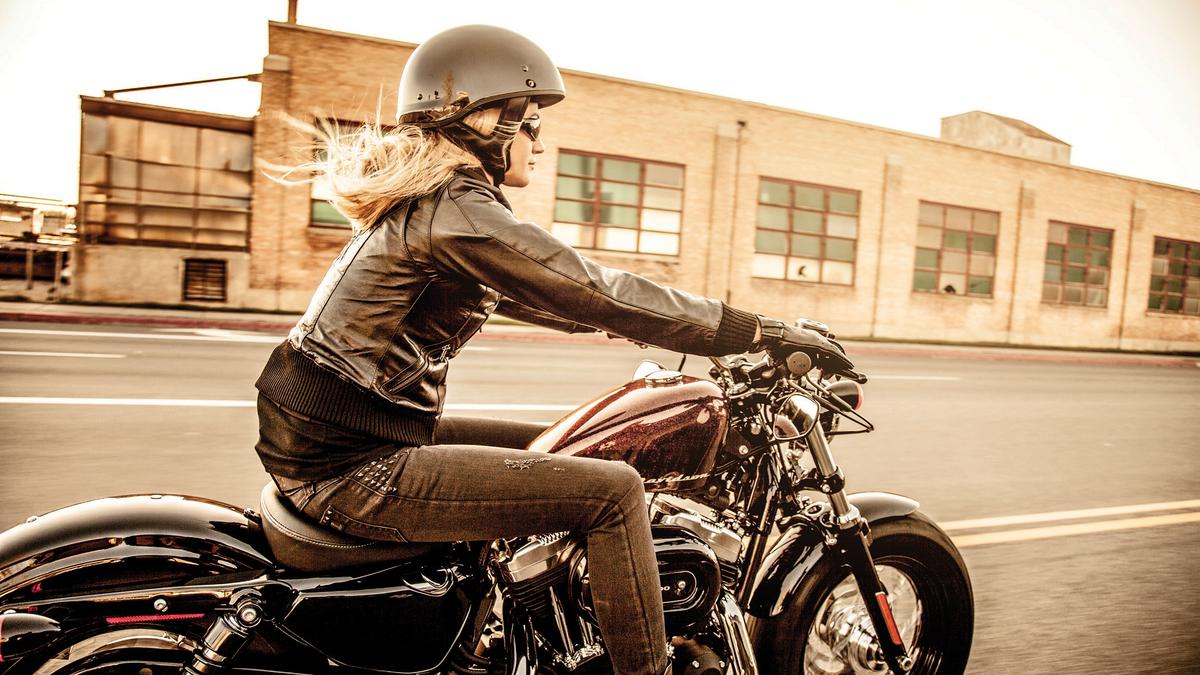 "Because significant brain damage is common among fatally injured motorcyclists, helmet wearing is vital," according to Iihs.org. Helmets are roughly 37% efficient at preventing motorcycle fatalities and 67% effective at preventing brain injuries." It only takes a fraction of a second to be involved in an accident, and even a "quick trip down the block" involves many seconds and opportunities to cause harm.
Women Helmets made by Harley Davidson here.
2. Jacket
In addition, a long-sleeved jacket is always a smart choice for a woman to wear while riding. Again, leather or other synthetic materials are the finest choices (be wary of faux leather). This jacket is worn for protection as well as protection from the elements. You'll need to get a jacket that fits properly. You'll need a leather jacket that fits a touch loosely. When you're riding, the jacket will also stretch to fit your body. This does not imply that you should get a jacket that is smaller to ensure a proper fit.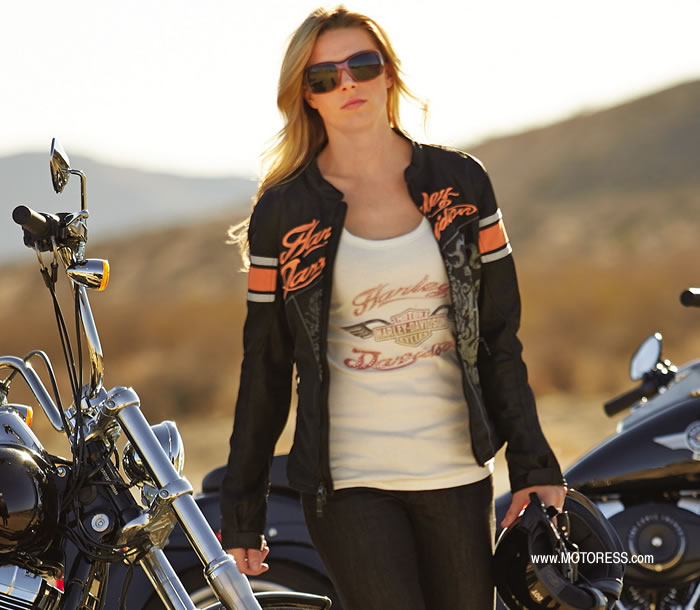 If you don't want to wear them, at the very least wear anything that covers your arms completely. Long-sleeved coats can also protect your skin from road debris such as rocks or glass that may fly up from the vehicle in front of you.
Click here for Harley Davidson jackets and here for Harley Davidson hoodies.
3. Purses & Handbags
Purses are often used by women to keep makeup, wallets, keys, and other items, and some women may not want to leave the house without them. Many ladies think riding a motorcycle while wearing one is safe. It would also make women look stylish.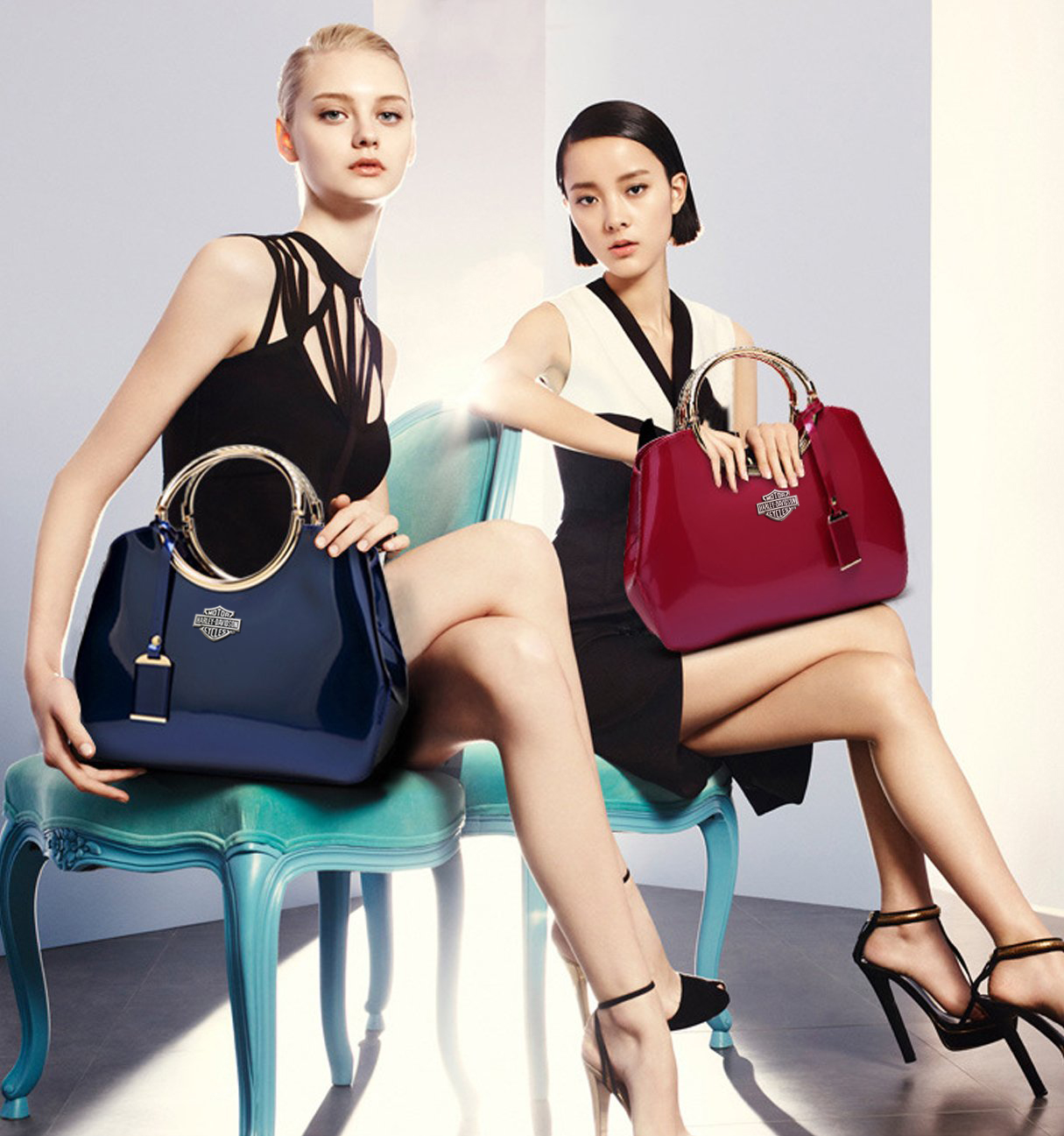 Consider acquiring a compartment or saddlebag for your bike to make up for the lack of a handbag. Alternatively, a backpack has been shown to be far more trustworthy and safe than a Harley Davidson purse.
See the collection of Harley Davidson bags & purses here.
4. Sunglasses
Most states mandate motorcycle riders to wear eye protection at all times when riding. Sunglasses will act as a small windscreen to protect your eyes. Dr. Erwin believes that polarized glasses diminish glare from horizontal surfaces like water, the road, and snow.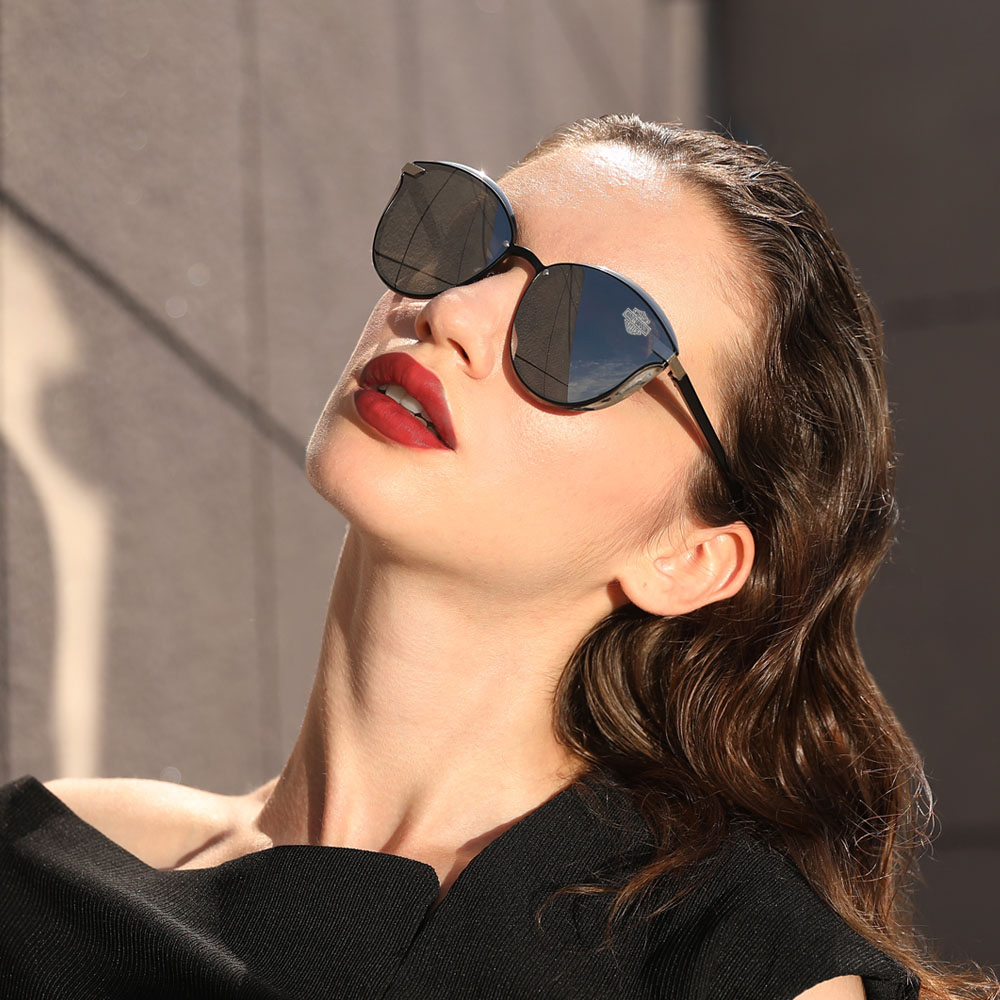 Take a look at our Harley-Davidson collection.
5. Long pants
When riding a bike, long pants are also a smart option. Long pants not only provide some protection in the event of an accident, but they also protect your legs from the heat generated by exhaust pipes and engines, which could potentially burn your legs. These pants are available in a variety of sizes and forms.
Want to show your passion for the brand? Check out our Harley-Davidson apparel collection here >>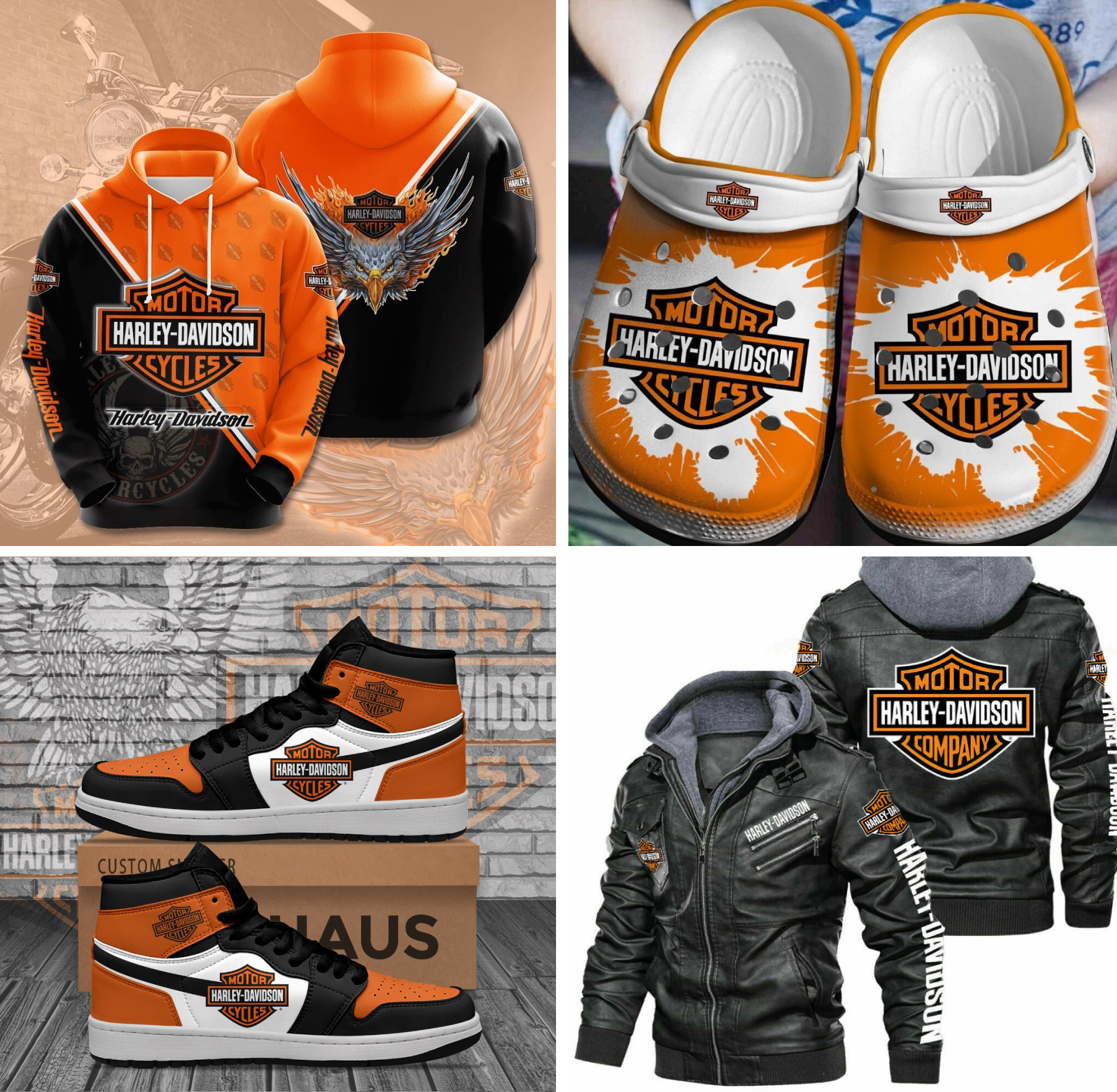 6. Ankle-covering boots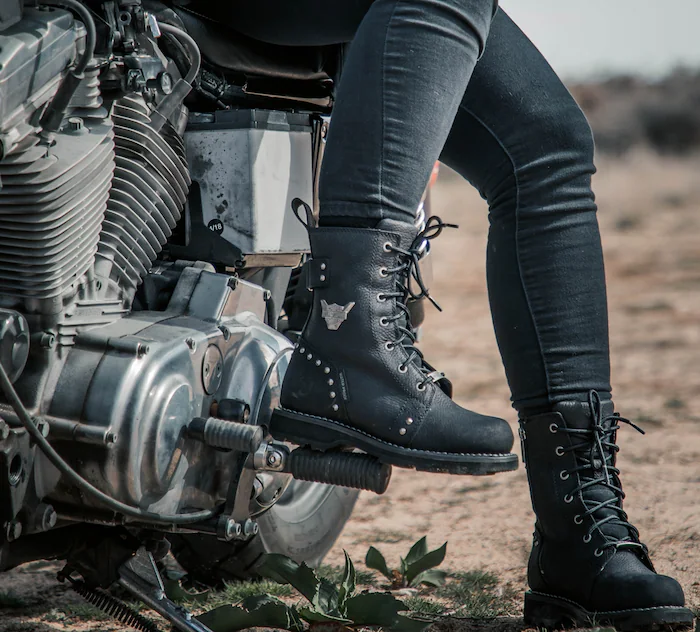 Ankle-covering boots should always be worn in addition to pants. Many women fear ankle-covering boots, however, there are many attractive ankle-covering boots available that are great for both style and protection. Your best bet is to search online, where you'll find a variety of women's riding boots. Read the description and return policies to ensure that you can return them if they don't fit properly.
Check out our Harley Davidson boots and shoes for women here.
7. Gloves
If you're a rider, you'll also be interested in gloves. These will most likely be black as well, allowing you to hold the bike without perspiration tearing you away from it as you ride. Many motorcyclists overlook this piece of equipment and even ride without it. If you're going to buy motorcycle gloves, make sure you choose a solid pair that will protect you in the event of an accident. If your hands are valuable to you, keep them safe when riding.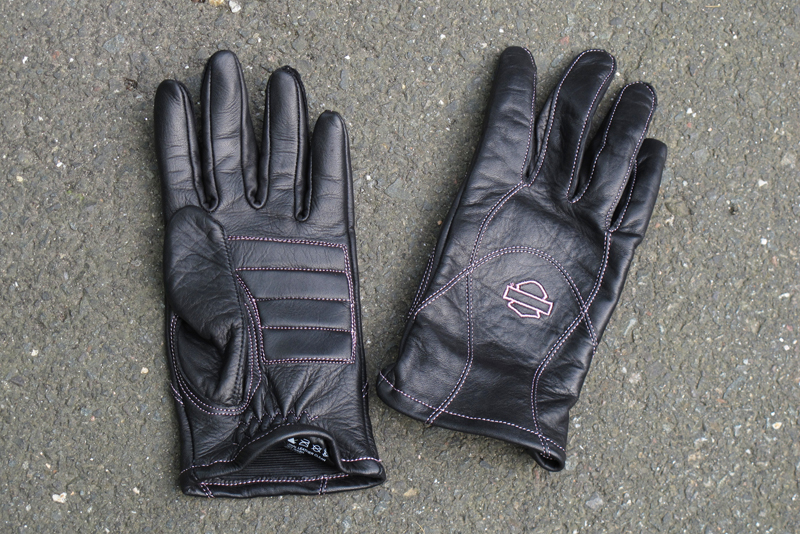 From this list, you may deduce that proper riding protection entails basically covering your entire body. If the motorcycle crashes or tips over, exposed skin could result in more serious injuries. Both men and women who bike must follow these guidelines.
Clothing To Avoid
Now that we've covered the types of clothes that will give the most safety for female riders, it's necessary to point out some items that should never be worn on a motorcycle.
1. Skirt
On a Harley Davidson motorcycle, wearing a skirt is both unpleasant and dangerous. It's possible that the skirt flaps all over the place, obstructing your eyesight. If your skirt is too tight, it can be uncomfortable and prevent you from moving your legs in the way you need to maneuver the motorcycle.
2. High heels
High heels are a no-no as well. Flat shoes are required for riding a motorbike in order to maintain the proper traction and stay on the foot pegs and/or clutch pedal. It would be impossible to keep your balance on these pedals in high heels, especially if you were riding a Harley Davidson motorcycle.
3. Shorts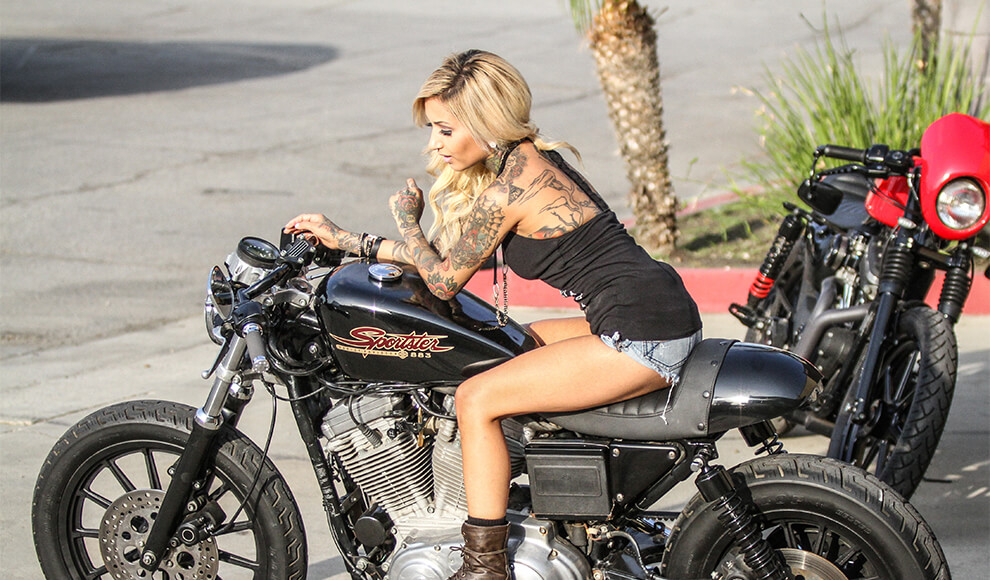 While it is not illegal, riding a motorcycle with shorts is not a good idea. This can be difficult for American women to follow, especially on a hot summer day. Shorts provide less protection from the motorcycle as well as the road you're traveling on. If your skin comes into contact with the exhaust pipes and engine, you risk getting burnt as well as greater injuries from the road.
Do you know who owns Harley-Davidson now? Click here to find out >>
4. Hairstyles
You should probably pay attention to how you wear your hair, even if it isn't considered clothes. Because women's hair is typically longer than men's, this is something that most guys overlook.
Avoid wearing your hair in tight buns or braids on top of your head. When you put your helmet on, these will be pulled down, causing bulges and pressure spots within your head that are rather uncomfortable. Instead, wear your hair in a low ponytail or braid to keep it out of your helmet's way. This will also keep your hair out of your face by preventing it from moving around underneath your helmet.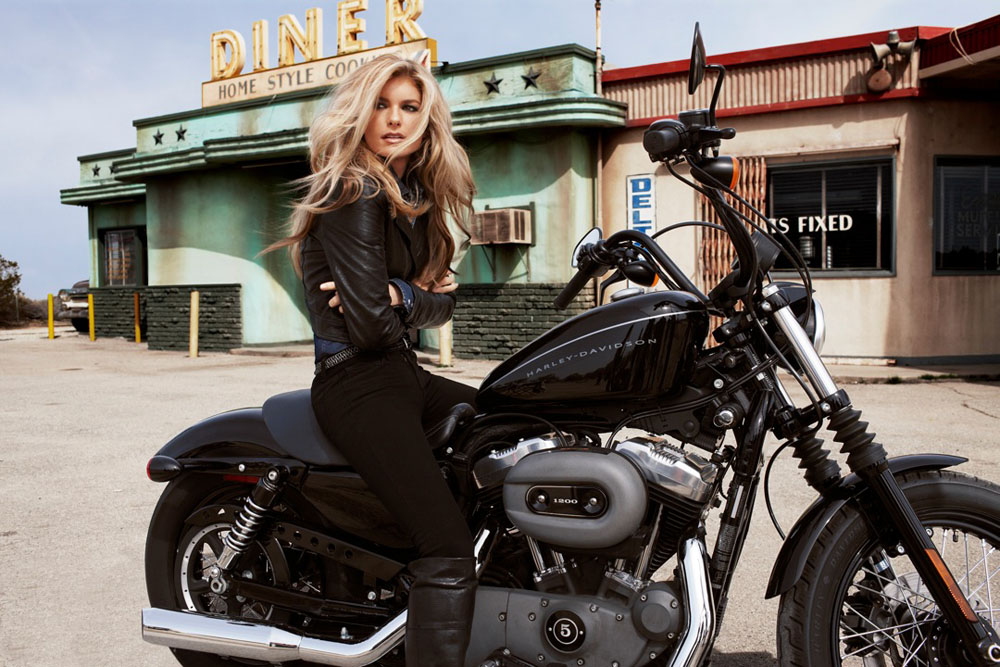 5. Headphones
Avoid using headphones while cycling as well. Anything crammed in your ears can make it difficult to hear important sounds around you. Instead, acquire a Bluetooth helmet or install a speaker system on your motorcycle.
Conclusion
These items of clothes are required for any bike rider, but especially for the Harley Davidson style. When you buy leather motorcycle clothing, you should take good care of it and keep it in good condition. So you'll be able to use and ride with them in the future. The majority of the bikers dressed in this attire will be Harley-Davidson riders or want tobes.
You can even get biker clothing for your child. If you have a son or daughter who enjoys accompanying you on your adventures, there are numerous items you can get for them to keep them safe.
Learn more about the best motorcycle tires for Harley Davidson here >>
Read more:
Who Owns Harley-Davidson? Where are Harley Made?